I'm from the south, so I've seen all kinds of fried foods in my life–but whether it's meat, pickles, Twinkies, or ice cream, all of those, err, "foods" are made the same way. Batter. Eggs. Lots of oil. That's probably the image you get when you think of fried foods, too. But this Moroccan Fried Chicken pan-fries poultry in pesto, of all things. Well, why not? Most pestos have a hearty base of oil and the herbs and spices are a wonderful flavor for that golden-brown crust pan-fried meats naturally form. This recipe is easy to prepare and pairs well with roasted veggies, cauliflower rice, and also makes a great protein for a salad!
Looking for AIP-Friendly Breakfast Recipes?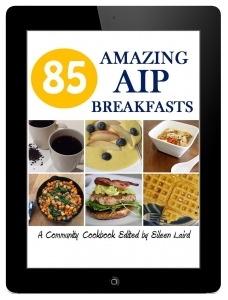 What to eat for breakfast is one of the most common questions I get from people starting the autoimmune protocol. I understand completely: With all my old staples off the table, breakfast was my biggest challenge, too. Well, now there's an easy answer. 85 Amazing AIP Breakfasts is a community e-cookbook featuring dozens of breakfast-friendly autoimmune protocol recipes from some of your favorite bloggers. With coffee substitutes, comforting teas, sausage, waffles, stir-fries, soups, hash, muffins, and porridge, 85 Amazing AIP Breakfasts has just about every one of your breakfast needs covered, sweet and savory alike. Many of the recipes can even be adapted for a low-FODMAP diet! The e-cookbook is available on editor Eileen Laird's website.
Nutrition Facts
Calories:
528
kcal
Carbohydrates:
7
g
Protein:
35
g
Fat:
39
g
Saturated Fat:
30
g
Polyunsaturated Fat:
3
g
Monounsaturated Fat:
6
g
Cholesterol:
96
mg
Sodium:
937
mg
Potassium:
505
mg
Fiber:
2
g
Sugar:
1
g
Vitamin A:
1600
IU
Vitamin C:
17.3
mg
Calcium:
10
mg
Iron:
2.7
mg
Instructions
Combine all of the ingredients except the chicken in a blender and puree until smooth.

Coat the meat in the herb sauce and marinate for 30 minutes.

Heat a few tablespoons of oil in a skillet over medium-high heat.

Cook until cooked through, flipping once, about 15 minutes total.