Before we get to the food, I just want to express my thanks to all of you. Some of you have been following since the beginning, when WordPress slapped my "Going Green: A Broader View of Health" post on the front page two years ago; others stumbled here as vegans since then; yet others wandered from my handful of FoodPress features; and, more recently, I've gotten hits from people like me, those seeking answers to their chronic, generally autoimmune-related problems. People drawn here by mention of the paleo autoimmune protocol, Repairvite diet, TH dominance tests, foods for neurological health, and allergen-free recipes.
To those of you that have reached out in comments and e-mail, I thank you for sharing your stories and letting me know that I'm not alone. I struggle with what my illness had done to me almost daily, and knowing you're out there, struggling with me and grateful for our shared experience, gives me strength. I'm grateful, too — more than I can say.
Those of you watching in silence — I know you're there! — have my thanks, too. The hits on this blog have nearly tripled since I took up the autoimmune protocol, and not a day goes by someone doesn't come along from a new autoimmune-related Google search. The numbers affirm what I always suspected, but was never quite ready to believe: The health and food blogs out there do their readers a gross disservice in not offering more allergen-free and autoimmune-friendly options. We are a huge and unfortunately growing community, and it's long past time we had the resources that represented our numbers. Thankfully, allergen-free and autoimmune blogs have begun exploding across cyberspace. You might not find a new one every day, but you can certainly find enough to keep your kitchen churning out something exciting every time you need something new.
I know that this blog doesn't get a lot of love and that I let it fall behind after I graduated, but I have no intention of ever quitting: What love it does get convinces me that I am exactly where I ought to be. I don't have all of the answers; not yet. I don't think anyone could claim to, not only because these diseases are endlessly complicated and our understanding of them changes all the time, but also because everyone responds differently to different approaches. I do believe that diet and lifestyle changes hold the key for all of us, though, and I hope that the information I share will help people along their path to find the right combination. I don't have all of the answers, but I want to express solidarity with all of you: We will find them.
You all have all my thanks, love, and well-wishes.
Now, for the recipe. We've all heard of frying meats in butter, eggs, and breadcrumbs, but pestos? It was an entirely foreign concept for me… well, it is a Moroccan recipe. They sure know what's what over there. This one is like nothing you've ever had before. Assuming, you know, you've never had it before.
Looking for Some Simple AIP Recipes?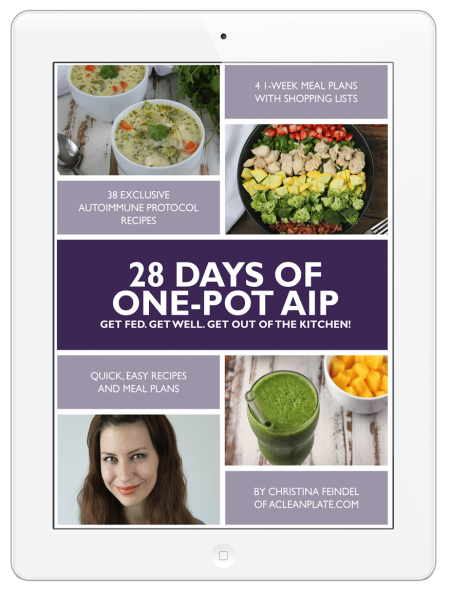 When you're dealing with fatigue, pain, or illness, eating healthy is hard enough without having to multitask while cooking or clean up a huge mess afterwards. That's why one-pot meals are my favorite. 28 Days of One-Pot AIP is exactly what it sounds like: A 28-day meal plan featuring only 100% autoimmune protocol, one-pot recipes. There's an intro to explain the AIP and one-pot cooking and the preparation is so much simpler when you've only got one thing to keep track of. Plus, you'll be amazed at the variety of flavors still available to you, like my Chicken Pot Pie Soup, satisfying green smoothies, and colorful salads! The e-book is now available for $9.99.
Nutrition Facts
Calories:
528
kcal
Carbohydrates:
7
g
Protein:
35
g
Fat:
39
g
Saturated Fat:
30
g
Polyunsaturated Fat:
3
g
Monounsaturated Fat:
6
g
Cholesterol:
96
mg
Sodium:
937
mg
Potassium:
505
mg
Fiber:
2
g
Sugar:
1
g
Vitamin A:
32
%
Vitamin C:
21
%
Calcium:
1
%
Iron:
15
%
Instructions
Combine all of the ingredients except the chicken in a blender and puree until smooth.

Coat the meat in the herb sauce and marinate for 30 minutes.

Heat a few tablespoons of oil in a skillet over medium-high heat.

Cook until cooked through, flipping once, about 15 minutes total.