I'd never made mayo before, but it's really easy! The key is adding the oil as slowly as possible to get it to emulsify. Can I just say that roasted garlic is amazing? I may never make a condiment without it again!
Keep your household clean, too!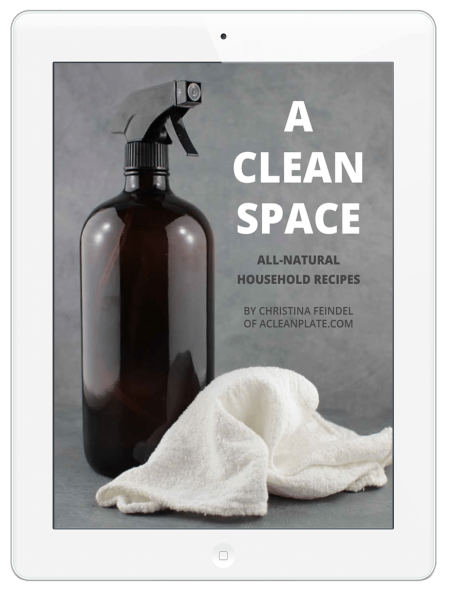 I may make my living as a food blogger, but my health-consciousness actually began long before I started cooking. Growing up with a sensitive nose and skin that would break out into a rash at the slightest provocation, I've been making my own cosmetics and cleaning products since high school. I hoped that avoiding these environmental toxins would not only improve my health, but be better for the environment and save me some money compared to buying high-end non-toxic products at a health-foods store. Whatever your reasons, making your own household products is easier than you might think. My e-book A Clean Space has all the tips, tricks, and recipes you need to get started–and it's only $6.99!
Nutrition Facts
Calories:
1707
kcal
Carbohydrates:
3
g
Protein:
12
g
Fat:
187
g
Saturated Fat:
27
g
Polyunsaturated Fat:
20
g
Monounsaturated Fat:
133
g
Cholesterol:
372
mg
Sodium:
290
mg
Potassium:
160
mg
Fiber:
1
g
Sugar:
1
g
Vitamin A:
400
IU
Vitamin C:
9.1
mg
Calcium:
40
mg
Iron:
1.4
mg
Instructions
Mayo
Blend the eggs, juice, mustard, and garlic (if using) until smooth.

While the blender is running, slowly pour in the olive oil in as thin a stream as you can manage. This will allow it to emulsify so that it won't separate when stored.
Garlic
Preheat the oven to 350F. Slice off the top and bottom of each garlic bulb. Peel off the outer skins.

Coat each bulb in 1 tablespoon of cooking fat.

Wrap each bulb in foil. Bake for 45 minutes.