When it's cold, there's nothing I want more than a hot beverage, but there's only so much herbal tea a gal can drink. Coconut milk lattes are my go-to when I need to change things up! The optional Sweet Apricity marshmallows and/or caramel sauce in this Matcha Green Tea Latte add a touch of extra-special flavor and a heaping helping of decadence to this otherwise simple treat.
Looking for AIP-Friendly Breakfast Recipes?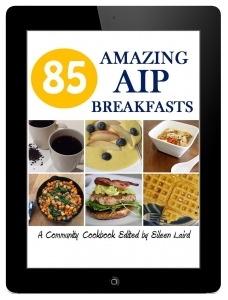 What to eat for breakfast is one of the most common questions I get from people starting the autoimmune protocol. I understand completely: With all my old staples off the table, breakfast was my biggest challenge, too. Well, now there's an easy answer. 85 Amazing AIP Breakfasts is a community e-cookbook featuring dozens of breakfast-friendly autoimmune protocol recipes from some of your favorite bloggers. With coffee substitutes, comforting teas, sausage, waffles, stir-fries, soups, hash, muffins, and porridge, 85 Amazing AIP Breakfasts has just about every one of your breakfast needs covered, sweet and savory alike. Many of the recipes can even be adapted for a low-FODMAP diet! The e-cookbook is available on editor Eileen Laird's website.
Nutrition Facts
Calories:
509
kcal
Carbohydrates:
32
g
Protein:
3
g
Fat:
42
g
Saturated Fat:
36
g
Polyunsaturated Fat:
0.004
g
Monounsaturated Fat:
0.01
g
Sodium:
70
mg
Potassium:
8
mg
Fiber:
2
g
Sugar:
21
g
Iron:
3.8
mg
Instructions
In a medium saucepan, bring the water to a simmer over medium heat.

Stir in the matcha until no lumps remain, then add the coconut milk and reduce the heat to medium low.

Heat through, stirring occasionally, then serve garnished with marshmallows.