If you start Googling what to do with those plantains you found at the store this week, you'll find a lot of variations on smashed or mashed plantains. Mofongo, tostones, kufu–they're all incredibly delicious takes on one of my favorite starchy vegetables. What varies are the seasonings and exact presentation. Some use pork skins for crunch and saltiness, others use pancetta. If you can't get your hands on pancetta where you live, bacon works just as well and is often cheaper, so I've opted for that here. If you're not on the autoimmune protocol, you can add some red pepper flakes or a dash of hot sauce. The cool thing about plantains is that even if you mash them up into a soup-like consistency, like in this recipe, they congeal into more of a dough if you let them sit long enough–which you can then roll into balls or smash into patties (you can also add a bit more broth or water while reheating them to thin them back out again). Bottom line: I love how versatile plantains are and how well they pair with everything!
Looking for Some Simple AIP Recipes?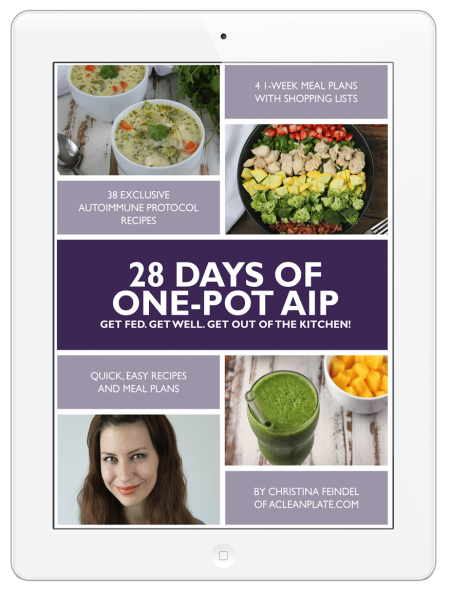 When you're dealing with fatigue, pain, or illness, eating healthy is hard enough without having to multitask while cooking or clean up a huge mess afterwards. That's why one-pot meals are my favorite. 28 Days of One-Pot AIP is exactly what it sounds like: A 28-day meal plan featuring only 100% autoimmune protocol, one-pot recipes. There's an intro to explain the AIP and one-pot cooking and the preparation is so much simpler when you've only got one thing to keep track of. Plus, you'll be amazed at the variety of flavors still available to you, like my Chicken Pot Pie Soup, satisfying green smoothies, and colorful salads! The e-book is now available for $9.99.
Ingredients
4

green

plantain

2

tablespoons

coconut oil

1

small

onion

(diced)

4

cloves

garlic

(minced)

1/2

pound

bacon

(diced)

1/2

teaspoon

sea salt
Nutrition Facts
Calories:
605
kcal
Carbohydrates:
61
g
Protein:
24
g
Fat:
32
g
Saturated Fat:
15
g
Polyunsaturated Fat:
3
g
Monounsaturated Fat:
11
g
Cholesterol:
64
mg
Sodium:
1559
mg
Potassium:
1256
mg
Fiber:
5
g
Sugar:
28
g
Vitamin A:
40
%
Vitamin C:
59
%
Calcium:
0.4
%
Iron:
13
%
Instructions
Place the plantains in a saucepan with water to cover and bring to a boil.

Reduce the heat to medium and simmer for 25 minutes or until the plantains are fork-tender.

Meanwhile, cook the bacon, onion, and garlic in a large skillet over medium heat until the bacon is crispy, about 15 minutes.

Transfer the plantains and their cooking liquid to a blender along with the bacon, onion, and garlic. Add the salt, then puree until smooth.