Okay, so margherita pizza is traditionally made with mozzarella and tomatoes. You won't find either of those in this recipe. This is a nightshade-free, dairy-free alternative. And it is delicious. The crust is perfectly crispy, the toppings perfectly salty, tender, and tart. Noah wanted a crust seasoned like garlic bread, so that's what I gave him. I prefer a slightly sweeter crust. If you're in the same boat, you can leave out or reduce the amount of seasonings in the crust. It is the best pizza I have ever made, and it has been a weekly staple in our house ever since we first tried it. Of course, you are welcome to use any sauce or toppings you like!
Keep your household clean, too!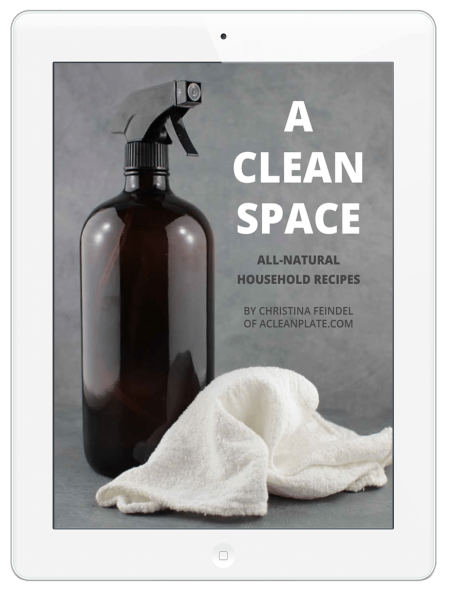 I may make my living as a food blogger, but my health-consciousness actually began long before I started cooking. Growing up with a sensitive nose and skin that would break out into a rash at the slightest provocation, I've been making my own cosmetics and cleaning products since high school. I hoped that avoiding these environmental toxins would not only improve my health, but be better for the environment and save me some money compared to buying high-end non-toxic products at a health-foods store. Whatever your reasons, making your own household products is easier than you might think. My e-book A Clean Space has all the tips, tricks, and recipes you need to get started–and it's only $6.99!
Ingredients
Nutrition Facts
Calories:
973
kcal
Carbohydrates:
74
g
Protein:
34
g
Fat:
63
g
Saturated Fat:
38
g
Polyunsaturated Fat:
5
g
Monounsaturated Fat:
17
g
Cholesterol:
253
mg
Sodium:
2673
mg
Potassium:
1821
mg
Fiber:
8
g
Sugar:
32
g
Vitamin A:
5250
IU
Vitamin C:
70.1
mg
Calcium:
140
mg
Iron:
6.1
mg
Instructions
Preheat the oven to 350F.

Combine all crust ingredients in a blender and process until smooth.

Pour onto a baking sheet (lined or well-greased) and spread into a circle or rectangle to about 1/4" thick.

Bake for 15 minutes. Meanwhile, combine all the ingredients for the sauce.

Add the sauce and toppings to the crust, then heat the oven to 450F and bake 5-8 minutes or until the crust is golden-brown around the edges.