This Maple-Lemon Electrolyte Water is a homemade sort of Gatorade for those of you that are very physically active or for whatever reason are trying to consume more salt/minerals (sometimes it's prescribed for low blood pressure or adrenal fatigue… I've had mixed results with that myself). The point is it's a much tastier, healthier way to get some mineral-rich fluids than chugging salt water or an additive-laden, artificially-flavored sports drink from the store (plus, you probably already have the ingredients on hand). It's just sweet enough to be appetizing and just salty enough to make you want to drink more to quench your thirst! P.S. This recipe is also good with orange or lime juice.
I wasn't expecting such a simple recipe to become one of the most popular recipes on A Clean Plate, but I am glad to know I wasn't the only one out there looking for a healthy, homemade sports drink! I have one of these after each of my workouts and it actually does wonders for my hydration levels. In the past, I've struggled to drink the prescribed amount of water every day due to a general lack of thirst. Even on days I work out and really need to re-hydrate. But the salt in this beverage actually makes me thirsty! Staying hydrated got so much easier when I introduced this into my routine.
Need a Break From Cooking?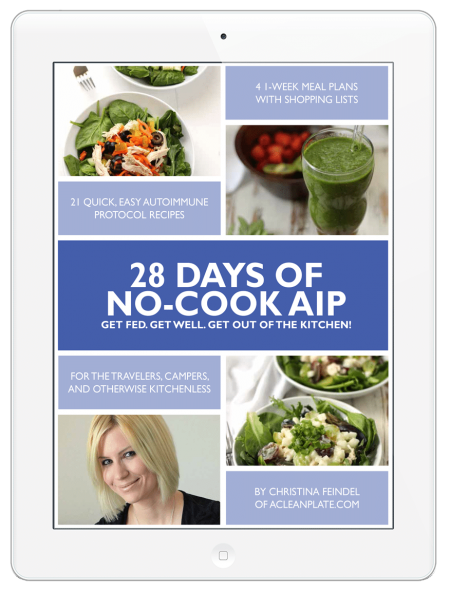 Whether you're traveling, moving, or just tired of spending so much time in the kitchen, 28 Days of No-Cook AIP can help. With four one-week meal plans designed for lazy days and/or a poorly-stocked kitchen, these simple dishes (including but not limited to salads, wraps, and smoothies) will make sticking to your autoimmune protocol diet during business trips, holiday travel, and times of illness or stress a lot easier! The e-book is now available as a digital download for $9.99.
Nutrition Facts
Calories:
42
kcal
Carbohydrates:
11
g
Protein:
0.1
g
Fat:
0.03
g
Saturated Fat:
0.01
g
Polyunsaturated Fat:
0.01
g
Monounsaturated Fat:
0.01
g
Sodium:
240
mg
Potassium:
49
mg
Fiber:
0.1
g
Sugar:
9
g
Vitamin A:
0.1
%
Vitamin C:
11
%
Calcium:
1
%
Iron:
1
%
Instructions
Combine all ingredients in a glass and stir until the salt is dissolved.