I have a confession to make: I don't like shrimp. I may have recounted this story before, but one of my earliest memories is getting violently ill at a seafood restaurant. Neither of my parents remember this occasion, so part of me wonders if it might have been a dream or if I made it up to justify avoiding shrimp, which does look and smell pretty icky to a four-year old with a conservative palate. Whatever the case, thanks to that and a decade of veganism, I was into my twenties before I gave shrimp a proper chance, and then only because my husband–whose family hails from southern Louisiana–loves it. Like, shrimp is his favorite food. Well, behind lobster and crawfish, which I find just as "icky" (although in lobster's case, it's mostly because of the price tag). And though I already have several shrimp recipes on this site which I will at least eat, this Maple-Glazed Peach Shrimp is the first one that had me thinking "I'd definitely go to the trouble of making this again".
First of all, I love peaches. Who doesn't love peaches? They go great with just about everything. And though I might have said it'd be a travesty to waste a perfectly good peach on something like shrimp, it was worth it to have a seafood meal my husband devoured with impunity while I ate contentedly across the table. Usually I just have a few bites–my "no thank you" portion, my husband calls it–and give all the leftovers to him. Not this time. A Clean Plate actually cleaned her plate. If you've got picky eaters in your own household, I'd love to know how this recipe is received!
Struggling to Start the Autoimmune Protocol?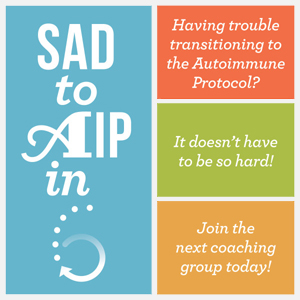 Living with chronic illness can be isolating enough without overhauling your lifestyle, often without the full support of family members who don't want their diets to change. But you don't have to go through it alone. SAD to AIP in SIX, from Nutritional Therapy Practitioner and author of The Alternative Autoimmune Cookbook Angie Alt, will coach you step-by-step through the transition from the standard American diet (SAD) to the autoimmune protocol (AIP). The six-week course includes coaching from Angie and her team, support from your peers in the program, and reference materials–it's an incredible bargain compared to private health coaching sessions. If you're struggling to make the change to the AIP or feeling isolated on your health journey, this is the program for you!
Instructions
Combine 1/4 cup broth, the maple syrup, and the honey in a small saucepan over medium heat. Cook, stirring occasionally, until reduced by half, about 5-7 minutes.

Combine the shrimp with the remaining ingredients and marinade in the fridge at least 30 minutes.

Preheat the oven to broil. Line a baking sheet with foil or grease it with coconut oil.

Toss the shrimp and peaches onto the pan and drizzle the glaze on top.

Broil 4-6 minutes, until the shrimp is pink and cooked through.