If you've ever used the phrase "running on empty", you already know what I mean when I say "energy budget". It's the amount of energy you have and can spend in a given day without compromising your health. Everyone has one. The factors that determine how much energy you have when you wake up every day and how much energy various tasks are going to give or cost you depends on a lot of things. Your mental attitude and the quality of your personal and social life, how much sleep you get, the kind of foods you eat, and your overall health all play a role. Some people wake up with a higher energy budget than others, and some people expend more energy on specific tasks than others. And everyone's energy budget varies from day to day. Unfortunately, having a chronic illness usually means your tank starts at half-full while your healthier friends and family wonder why you're always lagging behind them. This situation has already been well-explained by the famous spoon theory, which is an excellent way to help friends and family understand what you're facing when you're just not capable of keeping up. However, I often get weird looks when I explain my energy budget in terms of spoons, so I prefer to use language that works outside the dining room too: Cash.
Let's say that today I wake up and, because my neighbors had a huge party until 3 in the morning last night, my energy budget is half what it would've been if I'd gotten a good night's sleep. So, before I even get out of bed, I've only got $20 to spend for the day. My other neighbor, on the other hand, is a healthy person who wakes up refreshed after a mere six hours of sleep with an energy budget of $50. That huge party didn't phase him at all. It takes us both the same amount of time to get out of bed, hop in the shower, get dressed, and throw together a simple breakfast. However, these mundane, low-effort tasks cost him a mere $4 to accomplish whereas just standing in the shower makes me feel a little tired and I've spent $6 by the time we put away our dishes. But because food takes its toll on the body, too, I get a consolation prize: My breakfast of greens and grass-fed beef gives me back $3. His breakfast of sugar cereal and skim milk actually costs him an additional $3 because he's not satiated and his blood sugar is off to a bad start for the day. But, even though he has now spent more cash than me, he still has a lot more than I do.
We set off to work and, for our example, let's say we both have the same sedentary job in front of a computer. It doesn't burn a lot of energy, but it also doesn't generate a lot of stimulating mental or physical activity. Working takes $10 out of him and $12 out of me, and we both do pretty good at the company cafeteria's salad bar for lunch and get $3 back. And, by the way, it's Friday. For me, that usually means heading home, eating dinner, and hanging around with my boyfriend. Maybe we'll work on an artsy project together or just watch one of his sitcoms. For my neighbor, it means hitting one of the local bars with some of his work buddies as soon as he steps out of the office. He's probably going to spend another $20 carousing (plus the indigestion the bar food and drinking causes), while I may spend another $5-$10 depending on how much cooking I have to do and how dirty the kitchen is afterwards. However, I've got an old friend in town for one night only and she wants to get together. It is Friday, so I'll have the whole weekend to recover if I push myself a little too hard. After work, I've got $8. I'm probably feeling pretty tired, but not dead tired. While I'd really like to just eat dinner, watch a movie, and then go to bed, I can't pass up this opportunity to catch up with one of my oldest friends.
Well, guess how that goes for me. I'm too tired to keep up with my friend's desire to see the city a bit and her energy just rubs me the wrong way given how tired I am. Neither of us has the good night we'd hoped for, though I try my best to stay on my feet. When I get home around midnight, she apologizes for inconveniencing me and I apologize for being a downer. We both get that we're coming from different worlds now: She knows about my health problems and I know she's just the type of person that craves constant entertainment. No hard feelings, but it'll be a while before we get together again. I am definitely broke, which doesn't bode well for tomorrow. If I hadn't gone out, I might've had a few bucks to spare or at least a handful of change. I'm just hoping that my noisy neighbors let me get a good night's sleep. As for my other neighbor, he gets home a few hours after I do. He doesn't feel so great after bar food for dinner and more drinks than he can remember, but he'll be right as rain by this time tomorrow. He's still got $16 left, which isn't as good as he could've done if he'd eaten better and partied less, but isn't too bad. He could probably stay up all night watching TV or reading a book if he was inclined to.
What's the moral of this story? Well, yes, first of all, the amounts I chose were entirely arbitrary, but they illustrate the point: It's important for everyone to learn how to manage their own energy budgets so that they have enough to get them through the day without incident. Especially if you are dealing with a chronic health problem, because your body is working extra hard trying to heal and you're going to wind up starting with less and spending more than a lot of people. So, here are some important lessons I've learned over the years:
Learn to say no. No matter what the occasion or opportunity, turn it down if you do not feel that you're up for it. Don't try to rationalize it. Don't tell yourself you'll regret passing it up or that you can always recover later. Don't even think about it. Just take stock of your gut feeling and if your gut feeling is "no", STICK TO IT. Tell your friends, family, co-workers, etc. whatever you have to to get them off your back and don't let them pressure you. Sometimes, a simple and firm "I can't" or "No thank you" works best. "Why?" is really nobody's business, especially if they don't already know the details of your health problems and/or aren't understanding of them.
Find alternatives. Okay, so saying "no" isn't fun for anyone. Maybe instead of exploring the city with my friend, we could've stayed in and played a board game, told stories over a quick dinner of lettuce wraps, or just gone to a local theater to watch a movie she's been wanting to see. Maybe none of those seem as exciting, but they beat doing nothing at all and don't make me feel like crap afterwards. But if she wasn't interested in any of that, then I could've stuck with "no" and consoled myself with a spontaneous at-home "spa night", an engrossing book, or just watching something funny with my less-difficult cat by my side. Maybe I'll rent that movie I've been wanting to see and roast some salty kale chips to go with it!
Know your limits. This is a lot like the first one, but applies to everything in life, not just people. For example, let's take my apartment floor. The carpet hasn't been vacuumed in weeks. I know it's gross and full of dust and other allergens at this point. I know that vacuuming needs to happen soon or more like three weeks ago. But it's 98° outside, 86° inside, and my vacuum cleaner is heavy, hard to maneuver, and I have to walk clear across the complex to the dumpster to empty the canister before I can use it. In short, vacuuming costs like $5 on a good day and can totally wreck me if I'm already tired. It's much more cost-effective for me to do the dishes and wipe down the counters if I need to conserve energy. And if I don't even have the energy for that, I can accept that those dishes will still be there tomorrow. Or whenever. Because as much as I like (okay, love) a pristine space, my health is my number one priority. Life just isn't worth living if I run myself into the ground on a regular basis. So learn let the little stuff slide so that you can focus on things that are more important.
On a related note, ask for help. If your friends or family are over for dinner or game night or whatever, ask them to clean the kitchen before they leave. That's just good manners, isn't it? And friends help each other out, period. Which reminds me. I once asked a friend to pick up some tampons for me because I was feeling waaaaay too groggy to get behind the wheel (this was before I discovered the no-fuss Keeper cup!). She even gift-wrapped them while she was out to make it fun(ny). Couldn't ask for a better friend. Just pay that karma forward when you can. If you have to, barter for less-grueling tasks. "Hey, honey, I know you just got home from work, but can you please vacuum the floors? I'll massage your feet later." Eww, man feet. Well, I did say less-grueling, not less-gruesome.
Control what factors you can. Grab what sleep you can. Eat as well as you can. Avoid over-exertion as much as you can. De-stress as much as you can. Get sunlight, practice positive thinking, and cultivate a healthy social life even if that means having more phone conversations or quiet movie nights and fewer nights on the town. Get a routine and stick to it as best you can, especially when it comes to eating and sleeping.
And finally, accept that you can't control everything. Sometimes, your neighbors will wake you up at 3 am. Sometimes, you'll forget to tell the waiter "no grains" and that salmon you ordered special will show up with a heap of rice on top of it. Sometimes, you've gotta sprint across that parking lot to get to work on time and sometimes you just cannot. take. your coworker's. freaking. chihuahua stories. And sometimes the people you love will make you feel guilty for not being "more entertaining" or you won't be able to fall asleep because your brain is spinning with that article on, among other things, "getting to bed on time" that it suddenly really wants you to write at 12:45 am (hey, I never claimed to be perfect!). Bottom line, shit happens. Acknowledge it, but don't dwell on it because getting upset or stressed or vengeful or horrified or any of those other negative emotions only hurts you. Tomorrow's a new day. And so is the day after that. If you're managing more good than bad, that's pretty darn good. And if you're managing more good than you did the day before, even if that good is still being crushed under the weight of all the bad, that's pretty darn good too.
Struggling to Start the Autoimmune Protocol?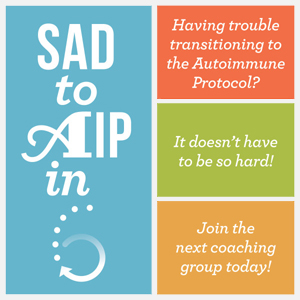 Living with chronic illness can be isolating enough without overhauling your lifestyle, often without the full support of family members who don't want their diets to change. But you don't have to go through it alone. SAD to AIP in SIX, from Nutritional Therapy Practitioner and author of The Alternative Autoimmune Cookbook Angie Alt, will coach you step-by-step through the transition from the standard American diet (SAD) to the autoimmune protocol (AIP). The six-week course includes coaching from Angie and her team, support from your peers in the program, and reference materials–it's an incredible bargain compared to private health coaching sessions. If you're struggling to make the change to the AIP or feeling isolated on your health journey, this is the program for you!