I had over a decade of rampant autoimmune problems under my belt by the time I was diagnosed with Interstitial Cystitis last year. By that time, I'd quit my demanding night-shift job, changed my diet, made an effort to build (and enjoy) a social support circle, cut all kinds of sources of stress out of my life, had tackled my life-long insomnia…. In other words, I was pretty much doing everything I could to manage my autoimmune diseases. Getting diagnosed with IC came flying out of nowhere. Wasn't all of this hard diet and lifestyle stuff supposed to mean I was getting healthier?
Well, after I changed my diet, I was eating a lot of fermented foods. Acidic foods are a common trigger for IC. The potential for an IC flare had probably been there for a long time and I just wasn't exposing myself to this powerful trigger. And of all the symptoms I'd experienced in my decade plus of illness… man, nothing compared to the IC. If you've ever had a nasty UTI, you know more or less what it feels like. There's pressure and burning in your bladder and genitals and an urge to pee even when you don't have to. It's enough to drive you mad.
For me, the only difference between IC and a bad UTI is the fact that the burning doesn't get a million times worse when I pee, but it does get better later in the day as long as I'm avoiding my triggers. A UTI would probably not feel better and then worse and then better and then worse like that. IC can also cause incontinence and make you wake up at night (perhaps several times) to pee, and it doesn't do wonders for your sex life, either. It's definitely the least fun of all my autoimmune diseases.
Not that those are ever any fun.
Think you might have IC? The first thing you'll want to do is rule out an actual UTI. The first time I complained of these symptoms, my family doctor cleared me of any UTIs and then referred me to a urologist for IC testing. I saw the urologist less than a week later, and guess what? I had a UTI my family doctor had missed. So make sure your doctor is thorough. You'll want to get any underlying infections treated. I treated mine, came back with the same symptoms, and was diagnosed with IC based on the fact that we'd ruled everything else out. The only diagnostic test for it is bladder imaging via catheter, which is extraordinarily uncomfortable in and of itself.
If you've recently been diagnosed or are undergoing testing for IC, you're probably wondering the same thing I was: What can I do to make this horrendous burning pain never ever come back?
Preventative Measures
The autoimmune protocol
Start the autoimmune protocol. I know it's a big change if you've been eating the standard American diet or even standard Paleo. I know it's not a lot of fun changing your routine. But it's never been easier to do. There are tons of cookbooks and meal plans out there. There are frozen meals, budget strategies, tips for sticking to it when your family isn't on board, advice for fighting temptation, shopping lists, infographics, a literal textbook on the how and why, and support groups to walk you through it. Whatever your excuse for not starting the AIP immediately, I promise there's an answer to debunk it. Your best shot at eliminating any autoimmune symptoms is eliminating environmental triggers–and giving your body tons of nutrients to help it repair itself.
Avoid other foods
Yes, this is in addition to the AIP. I know, it sucks. But if you're on the AIP and your bladder is still acting up, there are other foods that may be irritating your bladder. The full list of possible IC dietary triggers includes:
Caffeine (coffee, tea, soda, chocolate, etc.) and alcohol
Acidic foods (like citrus, cranberries, strawberries, pineapple, fruit juice, soda, pickled/fermented foods, yogurt, aminos, and vinegar)
Artificial sweeteners
Spicy foods (including all types of pepper)
Tomatoes
Aged, canned, cured, processed, and smoked meats and fish
Citric acid and MSG
Vitamin C and B6 supplements
Stress management
If you're stressed out, your body is stressed out. A stressed-out body can't cope as well with illness and it certainly can't heal. Whatever's causing your stress (it could be something as simple as exercising too much, eating too frequently, or not eating frequently enough), it's time to do something about it. Relaxation techniques abound online: Meditation, yoga, laughing with your friends and family, playing with your kids or pets, taking some time for yourself… and so on. Consider seeing a therapist to help you find coping strategies if you feel you need help that you aren't getting at home.
Prescription medications
The most commonly prescribed medication for IC is Amitriptyline in low dosages. As with most medications, there are pros and cons, everyone will react differently, and it's something that needs to be thoroughly discussed with your doctor. I've been taking Amitriptyline for about a year and have kind of a mixed opinion. Because I have IC symptoms so rarely (thankfully), it's hard for me to tell if it actually works. If I wake up feeling fine, how do I know I wouldn't have felt fine if I didn't take it? If I wake up feeling like crap, how do I know I wouldn't have woken up feeling worse if I didn't take it? I don't. However, it does help me sleep through the night when I'm in pain and it helps control some of the anxiety that could make my pain worse. All this to say: Talk to your doctor about your Rx options if your IC isn't well-managed by diet alone.
Pelvic floor therapy
I don't have any personal experience with this, but pelvic floor therapy can be extremely beneficial for patients with pelvic floor dysfunction (the symptoms of which include not only bladder symptoms like incontinence, but constipation, painful intercourse, and pain throughout the pelvic area, too). This is a hands-on physical therapy that may include both internal and external techniques to relax and strengthen the muscles of the pelvic region.
In the Middle of a Flare
So, if diet change and medications are preventative measures, what can you actually do in the middle of a flare? Well, the most important thing you can do is try to figure out what might have caused the flare (did you have some cheese or chocolate in the previous days? maybe you are extremely stressed out? were you intimate with your partner in a way that might have agitated your bladder? maybe you have a UTI or yeast infection?) and try to avoid that trigger in the future. Unfortunately, there aren't a lot of options for fighting your symptoms right this minute. If you've had a UTI before, you might be tempted to try cranberry juice or extracts. Don't! Fruit juices and acidic foods can trigger IC flares. Here are some of the things that have helped me and other patients I've spoken to:
Heat
Jump in a hot bath or wrap your lower abdomen in a heating pad. Heat, I've found, is the only thing that alleviates the pain of a swollen, burning bladder. There have been days I've run a hot bath at 3 am because I couldn't sleep due to the discomfort. I prefer the bath over a heating pad, because I find that while heat helps tremendously with my pain, it also tends to trigger one of those other IC symptoms… incontinence. If I'm gonna wet myself, I'd rather be in the bath! But I still use a heating pad when I'm traveling or working and, hey, it's also nice for any shoulder or back pain you might get from sitting at that desk!
Cold
Some people report that cold works better than heat. If that's you, keep a cold pack in the freezer ready to go!
Hydrate
Drink a lot of water. It'll help dilute your urine, which might be particularly helpful if you're having a diet-triggered flare. If I wake up with a flare, the first thing I do is guzzle four tall glasses. (And then I pee every ten minutes for the next few hours because that's a lot of water for an inflamed bladder). Adding 1/4 teaspoon of baking soda to your first one may help relieve the burning and pain faster.
Change position
You might be tempted to stay home and lie down until it passes, but I find that squatting or at least sitting cross-legged with my shoulders hunched forward a little tends to feel better (not a lot, but a little). I like to sit on the floor with something really engaging on my laptop to distract me, something that either requires a lot of focus or provides a lot of laughs.
Looking for Low-FODMAP Recipes?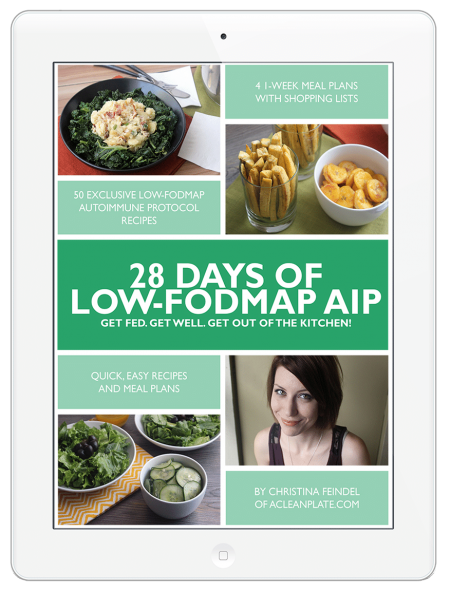 The low-FODMAP diet is often prescribed for people with IBS or Small Intestinal Bacterial Overgrowth (SIBO), and there's a huge overlap of that demographic with people with autoimmune disease. My e-book 28 Days of Low-FODMAP AIP combines both IBS- and autoimmune-friendly diets in a 28-day meal plan designed to jump start and simplify this often-challenging diet change. Just you wait: The meal plan includes 50 exclusive low-FODMAP recipes you won't find on my website or anywhere else, with dishes like Chicken Vindalo, Jambalaya, and crispy, crunchy Tostones. You'll be amazed at the variety of flavors still available to you! The ebook is available as a digital download for $9.99.