I love lamb. And I love lamb seasoned with mint and currants. I took a family favorite recipe for mushroom sauce and combined it with meatballs inspired by Epic's lamb, currant, and mint bars and holy moly, is the result delicious. And if you're short on time, skip the mushroom sauce. Or use it on other recipes. Or, heck, just eat it as a soup! If you can't find or don't have dried currants, raisins will work in a pinch.
Looking for Low-Histamine Recipes?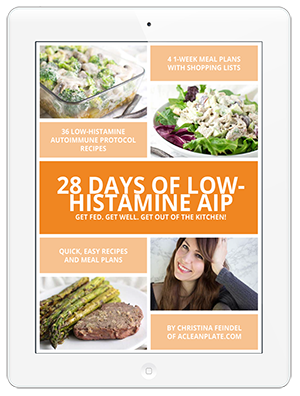 A low-histamine diet can be immensely helpful for MAST cell disorders or people with excess histamine production, but it's an extremely tricky diet to manage. My e-book 28 Days of Low-Histamine AIP combines low-histamine foods with the anti-inflammatory autoimmune protocol diet in a 28-day meal plan designed to jump start and simplify your diet change. The meal plan includes 36 simple, satisfying low-histamine recipes including a variety of dishes like Chicken Schawarma, Cabbage Roll Stir-Fry, and Chimichurri Steaks. You'll be amazed at all the flavors still available to you! The ebook is available as a digital download for $9.99.
Nutrition Facts
Calories:
527
kcal
Carbohydrates:
11
g
Protein:
23
g
Fat:
43
g
Saturated Fat:
26
g
Polyunsaturated Fat:
3
g
Monounsaturated Fat:
12
g
Cholesterol:
129
mg
Sodium:
758
mg
Potassium:
568
mg
Fiber:
3
g
Sugar:
3
g
Vitamin A:
10
%
Vitamin C:
9
%
Calcium:
8
%
Iron:
20
%
Instructions
Meatballs
Heat the fat in a skillet over medium heat.

Combine the remaining ingredients and shape into 1" meatballs.

Cook the meatballs, stirring occasionally, until cooked through.
Mushroom Sauce
Heat the fat in a saucepan over medium heat and cook the shallots and garlic until translucent.

Add the remaining ingredients and cook until the mushrooms are cooked through.