Kheema pav is a popular Indian street food, basically seasoned meat served up on a light, airy roll. Us grain-free folks can still enjoy the flavors on a lettuce wrap or portobello buns. This recipe excludes the nightshades, seeds, and grains the traditional dish includes.
Looking for AIP-Friendly Breakfast Recipes?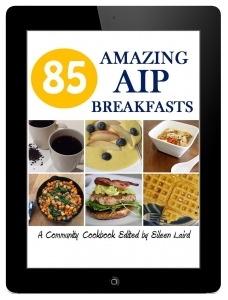 What to eat for breakfast is one of the most common questions I get from people starting the autoimmune protocol. I understand completely: With all my old staples off the table, breakfast was my biggest challenge, too. Well, now there's an easy answer. 85 Amazing AIP Breakfasts is a community e-cookbook featuring dozens of breakfast-friendly autoimmune protocol recipes from some of your favorite bloggers. With coffee substitutes, comforting teas, sausage, waffles, stir-fries, soups, hash, muffins, and porridge, 85 Amazing AIP Breakfasts has just about every one of your breakfast needs covered, sweet and savory alike. Many of the recipes can even be adapted for a low-FODMAP diet! The e-cookbook is available on editor Eileen Laird's website.
Nutrition Facts
Calories:
544
kcal
Carbohydrates:
20
g
Protein:
21
g
Fat:
42
g
Saturated Fat:
25
g
Polyunsaturated Fat:
3
g
Monounsaturated Fat:
12
g
Cholesterol:
83
mg
Sodium:
382
mg
Potassium:
815
mg
Fiber:
6
g
Sugar:
6
g
Vitamin A:
335
%
Vitamin C:
28
%
Calcium:
7
%
Iron:
22
%
Instructions
Combine the fat and spices in a saucepan and heat over medium until fragrant. Remove the bay leaves.

Cook the onion, garlic, and ginger in the pan until the onion has caramelized, about 30 minutes.

Add the meat and carrots and stir-fry until the meat is cooked through, 5-10 minutes.

Add the cilantro and lime juice, stirring, then serve hot.