He said, "This is the best food you've ever made". I was still readying my own plate and hadn't had a bite yet. When I finally sat down and sunk my teeth into our meal, I had to agree. Moist, tender, and bursting with lemon-herb flavor, this is how you eat chicken.
Struggling with thyroid disease?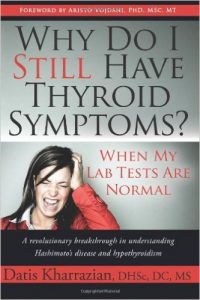 Why Do I Still Have Thyroid Symptoms? by functional medicine practitioner Datis Kharrazian is single-handedly responsible for my improved health over the past few years. It introduced me to the connection between autoimmune disease and lifestyle factors like diet at a time when my doctors were telling me there was nothing wrong with my thyroid even though I had high antibodies. This book gave me the information I needed to get the right tests ordered and seek proper treatment. It's a must-have guide for anyone who has already been diagnosed with thyroid disease, who is at risk due to family history, or who strongly suspects they may have it but isn't sure where to start. I can't recommend it enough!
Total Time:
2
hours
55
minutes
Nutrition Facts
Calories:
737
kcal
Carbohydrates:
5
g
Protein:
68
g
Fat:
47
g
Saturated Fat:
32
g
Polyunsaturated Fat:
5
g
Monounsaturated Fat:
9
g
Cholesterol:
192
mg
Sodium:
2331
mg
Potassium:
694
mg
Fiber:
1
g
Sugar:
1
g
Vitamin A:
1700
IU
Vitamin C:
35.5
mg
Calcium:
40
mg
Iron:
4.7
mg
Instructions
Combine all ingredients in a large container and marinade in the fridge for 2 hours.

Thread the cubed meat onto skewers (metal or bamboo; if bamboo, soak them first) and then lay across a large baking sheet side-by-side.

Bake at 375F for 45-55 minutes or until no longer pink in the middle.