Huli Huli Chicken is a Hawaiian dish perfectly suited for warm-weather grilling, which we're still able to do here in Texas (or should I say finally able to do, since it feels like it rained most of the summer?). But if the weather isn't cooperating or if you just don't have access to a grill, this recipe is just as good roasted. I like to marinade mine first thing in the morning so it's ready to go come dinnertime, but you can also prep it the night before if you have to. This pairs well with cauliflower rice and roasted vegetables like broccoli, especially because you can prep them in a separate dish and roast them at the same time as the chicken (cooking times for the veggies will vary depending on what veggie you choose). You might notice that this recipe calls for the somewhat uncommon measurement of 1/6 cup ketchup. I've had some questions about my more unusual measurements in the past, so I thought I'd start addressing them in the recipes. I know they can throw you if you've never seen them before, but in this case, 1/6 cup is pretty straightforward. To measure 1/6 cup, I simply fill a 1/3 cup measure halfway. That's the easiest way to do it, but 1/6 cup is also about equal to 2 2/3 tablespoons, which is easiest to measure as 2 tablespoons and 2 teaspoons. I know, that's more math than we generally want to do while we're cooking. And honestly, the recipe wouldn't suffer too much if you did 1/4 cup instead, which is the nearest more standard measurement… but I really like ketchup. It gives the aminos and pineapple flavors a really nice depth without screaming "ketchup!" with every bite. In fact, this marinade has made Huli Huli Chicken one of my go-tos any time I have a whole chicken on hand or see them go on sale. It's just so simple to throw together!
Keep it Simple with Freezer Cooking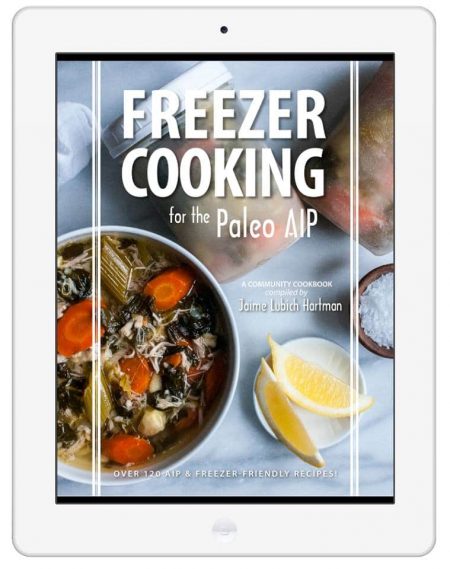 Preparing meals ahead of time and keeping them on hand in the freezer is one of the best ways to make any diet change sustainable. You'll wind up spending less time in the kitchen most days and will always have something ready to go when hunger or cravings strike. With Freezer Cooking for the Paleo AIP, you'll get 123 tried-and-true recipes from 30 of your favorite autoimmune protocol bloggers to help you out. Designed for batch cooking and advance prep, each recipe includes instructions for storing, freezing, and reheating it. There are recipes for every meal of the day and recipes for special occasions, too! The ebook is now available as a digital download for $18.90.
Total Time:
8
hours
40
minutes
Nutrition Facts
Calories:
372
kcal
Carbohydrates:
11
g
Protein:
50
g
Fat:
13
g
Saturated Fat:
4
g
Polyunsaturated Fat:
3
g
Monounsaturated Fat:
5
g
Cholesterol:
142
mg
Sodium:
842
mg
Potassium:
468
mg
Fiber:
2
g
Sugar:
9
g
Vitamin A:
6
%
Vitamin C:
13
%
Calcium:
1
%
Iron:
13
%
Instructions
Preheat the oven to 425 degrees F.

Place the chicken with the skin facing up in a large roasting pan.

Roast 30-40 minutes, basting with the marinade every 10 minutes and turning once halfway through, until the skin is browned and crispy and the chicken is cooked through.