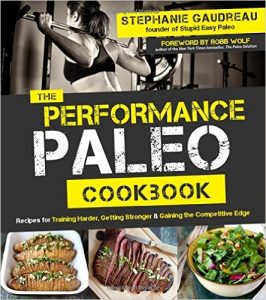 Stephanie Gaudreau is an athlete, photographer, and brilliant Paleo chef. She's always been a voice of inspiration to me as a chronic couch potato. With practical, uncomplicated recipes and plenty of advice for tailoring your diet to your activity level, her debut cookbook The Performance Paleo Cookbook provides a wonderful introduction to, well, taking care of yourself. Stephanie's photography will have you salivating over her recipes as you flip your way through the cookbook wondering "What should I make first?!" Honestly, it's hard to decide! But I'll make it easy for you with these Hasselback Sweet Potatoes. They're the perfect example of performance meets practicality. It's easy for people low on time and energy or trying to squeeze meals in around a busy schedule.
But don't let the title fool you: The Performance Paleo Cookbook isn't just for athletes. Among the competitors, CrossFitters, and weekend warriors in our community, there are people like myself who are recovering from chronic illness and need a high-calorie, nutrient-dense diet whether we exercise or not. No matter how active you are, everyone needs high-quality fuel and if that fuel is easy to make and enjoyable to eat, all the better! It's easily one of my all-time favorite cookbooks. There's a whole chapter of menus to help get you started, with everything from pre-workout snacks to post-workout recovery meals–most of which are easily adapted to the autoimmune protocol.
In addition to these Hasselback Sweet Potatoes, you'll find:
Pizza Burger Bites
Prosciutto-Wrapped Salmon with Honey-Lemon Glaze
Honey Garlic Lemon Chicken Wings
Blackened Fish Soft Tacos with Mango Slaw
Savory Salt and Vinegar Coconut Chips
Baked Yuca Fries
Banana Fudgesicles
Total Time:
1
hour
10
minutes
Nutrition Facts
Calories:
206
kcal
Carbohydrates:
25
g
Protein:
2
g
Fat:
11
g
Saturated Fat:
7
g
Polyunsaturated Fat:
0.1
g
Monounsaturated Fat:
0.04
g
Cholesterol:
22
mg
Sodium:
543
mg
Potassium:
406
mg
Fiber:
4
g
Sugar:
5
g
Vitamin A:
16650
IU
Vitamin C:
5.8
mg
Calcium:
80
mg
Iron:
2.5
mg
Instructions
Preheat the oven to 400°F/204°C and line a baking sheet with foil or parchment paper. Scrub the skin of the sweet potatoes thoroughly. Use a very sharp knife to make several vertical cuts from the top of the sweet potatoes most of the way through, stopping about ¼ inch/6 millimeters from the bottom. Place the sweet potatoes on the baking sheet. Brush with the melted ghee and sprinkle the sea salt on top. Roast for 60 to 75 minutes, until the sweet potatoes are soft.

Meanwhile, make the compound ghee. In a small bowl, combine the ghee, garlic, rosemary and thyme. Stir well with a spoon until it forms a soft mixture. Top the hot roasted sweet potatoes with the compound ghee.