I didn't think eggs could get an easier than scrambled, but these hard-boiled eggs come pretty close! I've never had an egg crack or come out under- or over-cooked using this method. I find that peeling them under cool running water while still hot makes the shells come off just a little more easily, but it's important to use fresher eggs. Now, most of us don't get eggs straight from the chicken (though I highly recommend doing so if you can–keeping chickens can be incredibly rewarding). Instead, most of us get them from cartons at the grocery store and their sell-by date may be months after they were laid. So, how can you tell if an egg is fresh? Submerge it in water. If it floats or stands up on its narrower end, it's old enough you should discard it. Eggs that sink and lie flat are fine.
Another note on egg purchasing: Here at A Clean Plate, we try to eat in ways that are humane, sustainable, and healthy–for everyone involved in the food-growing process, including the animals. The best eggs you can find at the grocery store are going to be certified humane and/or certified organic. If you've got a local farmer's market where you can talk directly to the farmer, even better! Find out what sort of conditions their chickens live in and support the ones that offer their flock plenty of outdoor space for foraging. While they do okay on vegetarian feed and even kitchen scraps, chickens love insects and worms. And they definitely don't want to be confined to cages so small they can't even spread their wings for the duration of their lives. Buying organic/humane eggs is a vote for better conditions and happier chickens.
Looking for Some Simple AIP Recipes?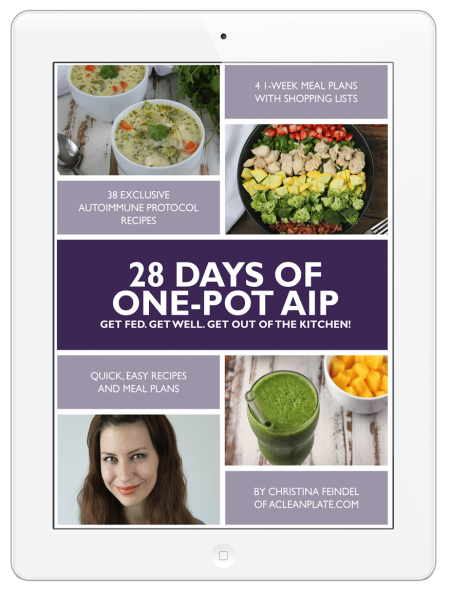 When you're dealing with fatigue, pain, or illness, eating healthy is hard enough without having to multitask while cooking or clean up a huge mess afterwards. That's why one-pot meals are my favorite. 28 Days of One-Pot AIP is exactly what it sounds like: A 28-day meal plan featuring only 100% autoimmune protocol, one-pot recipes. There's an intro to explain the AIP and one-pot cooking and the preparation is so much simpler when you've only got one thing to keep track of. Plus, you'll be amazed at the variety of flavors still available to you, like my Chicken Pot Pie Soup, satisfying green smoothies, and colorful salads! The e-book is now available for $9.99.
Nutrition Facts
Calories:
130
kcal
Carbohydrates:
1
g
Protein:
11
g
Fat:
9
g
Saturated Fat:
3
g
Polyunsaturated Fat:
1
g
Monounsaturated Fat:
3
g
Cholesterol:
372
mg
Sodium:
158
mg
Potassium:
121
mg
Sugar:
1
g
Vitamin A:
8
%
Calcium:
4
%
Iron:
8
%
Instructions
Stovetop
Bring the water to a boil and add salt.

Lower the eggs in slowly (I use a strainer) and boil for 30 seconds before adding the ice.

Let the water return to a boil, then reduce the heat to a very low simmer.

Cook for 11 minutes.

Drain the water from the pot and peel the eggs under cold, running water.
Instant Pot
Pour 1 cup of water into the pot and lay the steamer insert on top.

Place your eggs on the steamer rack, close the lid, make sure the vent is sealed, and select Manual. Set the display to 8 minutes.

When the eggs are done cooking, release the pressure valve and allow to completely vent before opening the lid. Transfer the eggs to the fridge to cool before eating.