Variously known as golden milk, turmeric tea, golden milk tea, curcumin tea, or just about any other variation of the words 'turmeric', 'tea', 'milk', and 'golden', this anti-inflammatory beverage has been all the rage lately thanks to a surge in turmeric's popularity as a healing food. A bit of quick Googling revealed its origins to be in south Asia, with a bit of a reputation for being "an old person's drink". You know, like the warm milk your grandmother might drink before bed. Well, if your grandmother's warm milk was yellow, she might have been on to something: This stuff is delicious. My favorite version is what I like to call a Golden Milk Latte.
Thick and creamy, this drink is reminiscent in texture to everyone's favorite breakfast beverage and in flavor to… well, nothing. There's really nothing like a Golden Milk Latte. You might expect a beverage made with turmeric and black pepper to resemble a savory soup, but with sweeteners and coconut milk, it's a surprisingly mild, comforting drink. My husband was understandably skeptical when I introduced him to this concept; now it's one of his favorite beverages. This time of year, a good Golden Milk Latte is a great remedy to the cold (both the temperature and the virus), but I think they're even better iced. If it happens to be summer where you are, or if your winters are mild enough that you're still wearing shorts like I am, do yourself a favor and take the time to let yours cool to serve over ice. These don't keep that well in the fridge if you want to serve them cold, as the spices and fat from the coconut milk tend to congeal. But if you want to serve them hot, you can keep the leftovers in the fridge for up to three days and just reheat your servings in the microwave or on the stovetop.
Need a Break From Cooking?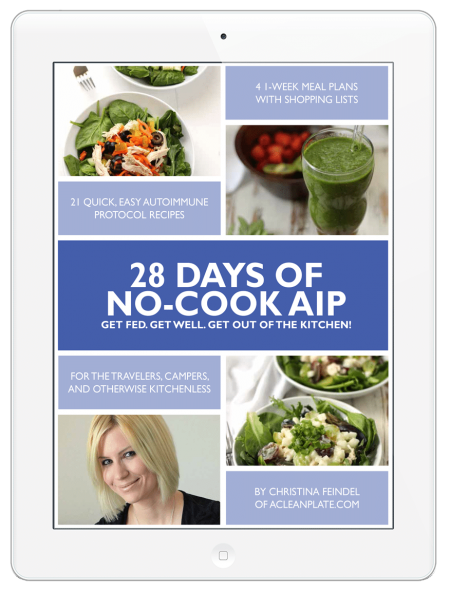 Whether you're traveling, moving, or just tired of spending so much time in the kitchen, 28 Days of No-Cook AIP can help. With four one-week meal plans designed for lazy days and/or a poorly-stocked kitchen, these simple dishes (including but not limited to salads, wraps, and smoothies) will make sticking to your autoimmune protocol diet during business trips, holiday travel, and times of illness or stress a lot easier! The e-book is now available as a digital download for $9.99.
Nutrition Facts
Calories:
544
kcal
Carbohydrates:
37
g
Protein:
3
g
Fat:
42
g
Saturated Fat:
36
g
Polyunsaturated Fat:
0.1
g
Monounsaturated Fat:
0.1
g
Sodium:
64
mg
Potassium:
151
mg
Fiber:
2
g
Sugar:
25
g
Vitamin C:
2
%
Calcium:
1
%
Iron:
15
%
Instructions
In a medium saucepan, combine the milk and spices over medium-high heat. Bring to a boil, stirring constantly.

Reduce the heat to low and simmer for 3 minutes. Add the syrup, honey, and vanilla.

Serve immediately or make iced lattes by refrigerating until cold and then serving over ice.