It's getting to be that time of year… Pumpkin Spice is here in full force and this year, it's back stronger than ever and not just as a latte. There are pumpkin spice beers, for goodness' sake. Pumpkin spice popcorn, crackers, and Poptarts. Ice cream, creamer, eggnog, candles. It's inescapable and I know I'm not the only one out there who is not a fan. Isn't "pumpkin spice" just a trendier way of saying "gingerbread"? Cinnamon, nutmeg, ginger, cloves, maybe a bit of allspice…. Yep, same exact flavors. Gingerbread was pumpkin spice before it was cool. Hipster pumpkin spice. Pumpkin spice classic. Honest pumpkin spice that didn't pretend to be a million different things. This time of year, I don't want something new and exciting–I want the classics I grew up with. Comfort foods from my childhood (or near-exact replicas of them using healthier ingredients). This warming, spicy gingerbread latte may not have any coffee or cream, but it's still a pitch-perfect reminder of wintery high school mornings, sipping gingerbread lattes during my off period first thing in the morning. Classic.
Looking for Low-Histamine Recipes?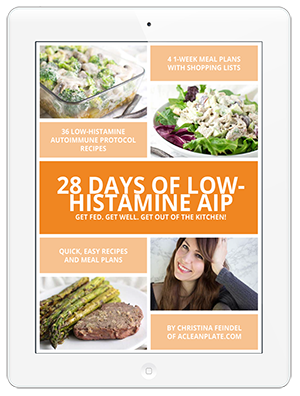 A low-histamine diet can be immensely helpful for MAST cell disorders or people with excess histamine production, but it's an extremely tricky diet to manage. My e-book 28 Days of Low-Histamine AIP combines low-histamine foods with the anti-inflammatory autoimmune protocol diet in a 28-day meal plan designed to jump start and simplify your diet change. The meal plan includes 36 simple, satisfying low-histamine recipes including a variety of dishes like Chicken Schawarma, Cabbage Roll Stir-Fry, and Chimichurri Steaks. You'll be amazed at all the flavors still available to you! The ebook is available as a digital download for $9.99.
Nutrition Facts
Calories:
229
kcal
Carbohydrates:
10
g
Protein:
2
g
Fat:
21
g
Saturated Fat:
18
g
Polyunsaturated Fat:
0.02
g
Monounsaturated Fat:
0.01
g
Sodium:
32
mg
Potassium:
82
mg
Fiber:
1
g
Sugar:
4
g
Vitamin C:
0.1
mg
Calcium:
10
mg
Iron:
0.9
mg
Instructions
Combine all ingredients in a blender and process until smooth.