Why did I not think of this sooner? I drink a lot of ginger tea. It's one of my favorite flavors to use in my meals. And of course, I already have a huge variety of lemonade flavors on this site. I just can't believe I didn't put the two together before now. You can adjust the amount of ginger (or lemon, for that matter) to taste and use additional flavors like rosemary, mint, or cucumber according to your preferences. I love a little bit of an earthy, herby splash in my lemonade, but your mileage may vary. I hope this helps you stay refreshed this summer!
Keep your household clean, too!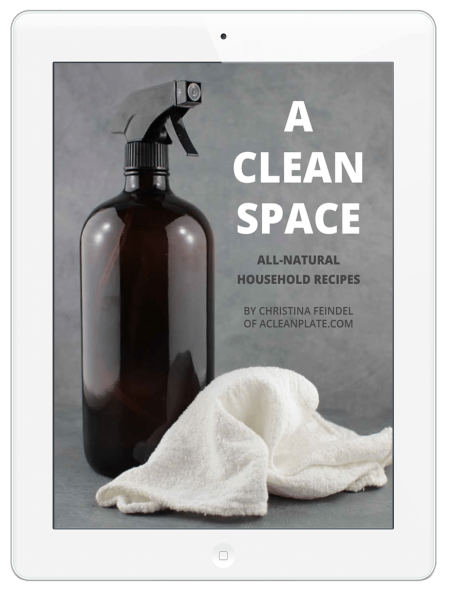 I may make my living as a food blogger, but my health-consciousness actually began long before I started cooking. Growing up with a sensitive nose and skin that would break out into a rash at the slightest provocation, I've been making my own cosmetics and cleaning products since high school. I hoped that avoiding these environmental toxins would not only improve my health, but be better for the environment and save me some money compared to buying high-end non-toxic products at a health-foods store. Whatever your reasons, making your own household products is easier than you might think. My e-book A Clean Space has all the tips, tricks, and recipes you need to get started–and it's only $6.99!
Ingredients
3

ounces

ginger

(peeled and grated)

3/4

cup

water

(boiling)

1/3

cup

honey

1

sprig

fresh rosemary

5

cups

water

(cold)

1/2

cup

lemon juice

(fresh)
Nutrition Facts
Calories:
59
kcal
Carbohydrates:
15
g
Protein:
0.4
g
Fat:
0.2
g
Saturated Fat:
0.03
g
Polyunsaturated Fat:
0.02
g
Monounsaturated Fat:
0.02
g
Sodium:
1
mg
Potassium:
89
mg
Fiber:
0.1
g
Sugar:
11
g
Vitamin A:
10
IU
Vitamin C:
12.4
mg
Calcium:
2
mg
Instructions
Combine the ginger, 3/4 cup water, honey, and rosemary in a small saucepan and bring to a light boil.

Cook, stirring constantly, until thick, about 10 minutes.

Let cool, then strain the liquid into a pitcher (discarding the ginger and rosemary left behind).

Add the remaining 5 cups water and lemon juice, then serve cold.