I drank a lot of ginger beer (a non-alcoholic fermented beverage, like kombucha) in my early days on the AIP. It was a fun little treat when I discovered I could no longer tolerate kombucha (I have a yeast sensitivity). And while I can't do a whole lot of ginger beer, either, it doesn't seem to bother me quite as much. And like kombucha, it's actually pretty easy to make at home. Actually, it's even easier than kombucha. It only takes a few days if your environment is warm enough, and you don't have to worry about taking care of a SCOBY in between batches!
Don't Feel Like Cooking?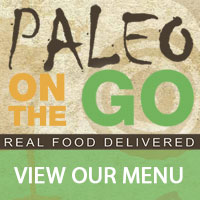 That's okay! Everyone needs a break sometimes, especially during busy times like the holidays or when you're sick or stressed out. When I find myself unwilling or unable to prepare healthy meals myself, I turn to Paleo on the Go. Yes, they have autoimmune protocol-friendly options! With tons of nutritious, delicious, pre-packaged meals, Paleo on the Go's ready-to-go, frozen courses are perfect for those days you just don't want to be in the kitchen. They even offer an appreciable selection of AIP-friendly treats, including toaster pastries!
Nutrition Facts
Calories:
12
kcal
Carbohydrates:
2
g
Protein:
0.3
g
Fat:
0.1
g
Saturated Fat:
0.02
g
Polyunsaturated Fat:
0.02
g
Monounsaturated Fat:
0.02
g
Sodium:
0.1
mg
Potassium:
50
mg
Fiber:
0.05
g
Sugar:
0.2
g
Vitamin A:
1
IU
Vitamin C:
2.5
mg
Calcium:
0.4
mg
Instructions
Combine the sugar, water, and ginger in a small saucepan over medium and bring to a simmer, stirring frequently for 10 minutes.

Remove from heat and allow to cool completely.

Strain out the ginger, then use a funnel to pour the syrup into 1 2-liter bottle or in equal portions into 2 1-liter bottles with flip tops.

Divide the lemon juice and yeast equally between your bottles. then fill the bottles to the shoulder with filtered water.

Close the bottles and shake them to mix well, then let them sit in a dark, warm place for about 2 days.

Transfer to the refrigerator and serve cold.