French Fries. Who doesn't love them? They pair so well with everything. I can barely have a burger or sandwich without them; it just doesn't feel right. Or paired with steak and eggs for brunch? Mmmf. And when I was in Pittsburgh for my cousin's wedding last year, I encountered them on salads. Apparently, Pennsylvanians will put them on anything. Well, I don't blame them! I've made a lot of fries at home over the years. It might be one of the first recipes I ever made from scratch. Baking fries is by far my favorite way to do it: Not only do you save on cooking fat, but you get to pop 'em in the oven and then walk away as opposed to standing over a hot, spitting vat of oil. And you can put whatever you want on them. These Garlic Herb Sweet Potato Fries are my all-time favorite combination of savory herbs and healthy root vegetables!
You can make these with orange or white sweet potatoes. Orange sweet potatoes are more nutritious, but white ones don't have as strong a flavor if the "sweet potato" taste has been a barrier for you or someone else in your family. It was definitely a flavor I had to get used to when I started eating more vegetables. Or, you know, any vegetables.
If you tolerate nightshades well and aren't watching your carb or resistant starch intake, you can also use russet potatoes instead. Just soak them in the cold water for at least thirty minutes instead of five. Oh, and don't forget a side of ketchup, ranch, or your dip of choice. Here are some recipes that pair well with these fries:
Struggling with thyroid disease?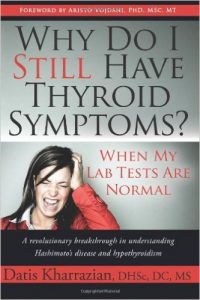 Why Do I Still Have Thyroid Symptoms? by functional medicine practitioner Datis Kharrazian is single-handedly responsible for my improved health over the past few years. It introduced me to the connection between autoimmune disease and lifestyle factors like diet at a time when my doctors were telling me there was nothing wrong with my thyroid even though I had high antibodies. This book gave me the information I needed to get the right tests ordered and seek proper treatment. It's a must-have guide for anyone who has already been diagnosed with thyroid disease, who is at risk due to family history, or who strongly suspects they may have it but isn't sure where to start. I can't recommend it enough!
Nutrition Facts
Calories:
89
kcal
Carbohydrates:
15
g
Protein:
1
g
Fat:
3
g
Saturated Fat:
2
g
Polyunsaturated Fat:
0.1
g
Monounsaturated Fat:
0.2
g
Sodium:
276
mg
Potassium:
252
mg
Fiber:
2
g
Sugar:
3
g
Vitamin A:
9250
IU
Vitamin C:
3.3
mg
Calcium:
40
mg
Iron:
0.9
mg
Instructions
Preheat the oven to 450 degrees F.

Soak the fries in cold water for 5 minutes, then drain the water and pat the fries dry.

Toss all ingredients in a large bowl until the sweet potatoes are coated.

Bake the fries in a single layer on a parchment-lined baking sheet until golden brown and crispy around the edges, about 25 minutes. Flip them over halfway through the cooking time to cook them more evenly.