I love pickles. I mean, who doesn't? They've just got such a wonderfully salty, refreshing flavor. My husband is prone to snacking on them in lieu of chips any time he gets a craving, which I can't say I disapprove of: Pickled cucumbers make a healthier snack than fried potatoes. Especially when you make them yourself. These Garlic Dill Pickles have all the flavor of store-bought pickles, plus some optional heat from crushed red pepper, without any of the additives. I mean, seriously, blue and yellow dyes? Do we really need our pickles to be a bright, almost sickly shade of yellow-green? What's wrong with the color of all-natural pickles? It drives me nuts the pointless things we do to our food, mostly for aesthetic reasons. But anyway. With apple cider vinegar, these spears have just a hint of sweetness, without going to the extremes of the sweet pickles you'd find in the store. They're a wonderful blend of flavors that work well anywhere you'd use pickles! Burgers, salads, sandwiches, relish….
Keep it Simple with Freezer Cooking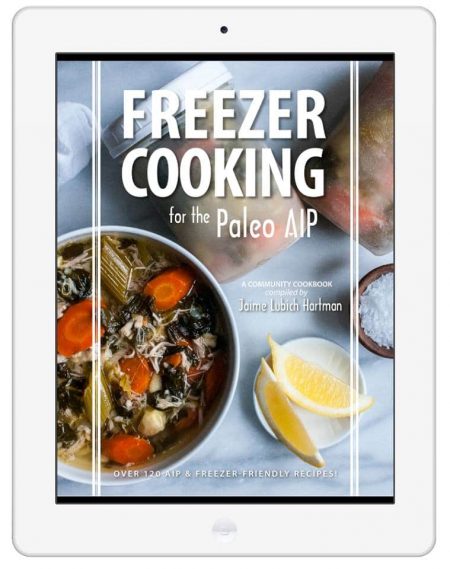 Preparing meals ahead of time and keeping them on hand in the freezer is one of the best ways to make any diet change sustainable. You'll wind up spending less time in the kitchen most days and will always have something ready to go when hunger or cravings strike. With Freezer Cooking for the Paleo AIP, you'll get 123 tried-and-true recipes from 30 of your favorite autoimmune protocol bloggers to help you out. Designed for batch cooking and advance prep, each recipe includes instructions for storing, freezing, and reheating it. There are recipes for every meal of the day and recipes for special occasions, too! The ebook is now available as a digital download for $18.90.
Nutrition Facts
Calories:
14
kcal
Carbohydrates:
3
g
Protein:
1
g
Fat:
0.3
g
Saturated Fat:
0.1
g
Polyunsaturated Fat:
0.2
g
Monounsaturated Fat:
0.002
g
Sodium:
719
mg
Potassium:
115
mg
Fiber:
0.4
g
Sugar:
2
g
Vitamin A:
2
%
Vitamin C:
4
%
Calcium:
2
%
Iron:
2
%
Instructions
Trim the ends off the cucumbers, then slice in whatever shape you like your pickles: discs, sticks, or whole. Pick out a mason jar or two that will hold the pickles comfortably.

Divide the garlic, dill, and red pepper evenly between the jars, then add the cucumbers on top as tightly as you can without smashing them. Leave at least 1/2" of space below the top of the jar.

In a small saucepan over high heat, bring the vinegar, water, and salt to a boil, then pour over the pickles to fill each jar within 1/2" of the top. Use more or less brine as needed.

Place the lids on the jars, then let cool to room temperature. Store in the fridge for at least three days before eating.