Cabbage has never been one of my favorite vegetables. I know, it's basically sacrilege for a southerner to not like coleslaw. But it often has a rubbery texture and bitter taste that can be off-putting even to people who aren't normally "picky eaters". As I learned more about cooking in general and produce specifically, I began to realize that those faults weren't so much a problem with cabbage but with the way it had always been presented to me. Like most crucifers, cabbage is incredibly healthy, but it ages poorly. After harvest, it will rapidly grow more bitter and rubbery with each passing day. It's best served as fresh as possible, while it still has a crispy crunch to it and a flavor that hasn't soured. Fresh cabbage makes for a great vehicle for whatever flavor you like, not just slaw or sauerkraut, but as a wrap, salad, or even in smoothies. This Garlic-Bacon Cabbage recipe embraces an AIP-friendly seasoning trifecta: lemon, garlic, and bacon. With just a handful of ingredients and a super simple prep, it's one of my favorite side dishes any time of year.
Struggling with thyroid disease?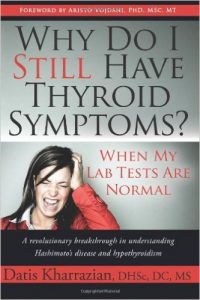 Why Do I Still Have Thyroid Symptoms? by functional medicine practitioner Datis Kharrazian is single-handedly responsible for my improved health over the past few years. It introduced me to the connection between autoimmune disease and lifestyle factors like diet at a time when my doctors were telling me there was nothing wrong with my thyroid even though I had high antibodies. This book gave me the information I needed to get the right tests ordered and seek proper treatment. It's a must-have guide for anyone who has already been diagnosed with thyroid disease, who is at risk due to family history, or who strongly suspects they may have it but isn't sure where to start. I can't recommend it enough!
Ingredients
1

head

cabbage

(quartered)

1/4

cup

lemon juice

2

cloves

garlic

(minced)

4

slices

bacon

(cooked and crumbled)

1/8

teaspoon

sea salt
Equipment
Nutrition Facts
Calories:
103
kcal
Carbohydrates:
15
g
Protein:
6
g
Fat:
4
g
Saturated Fat:
1
g
Polyunsaturated Fat:
1
g
Monounsaturated Fat:
2
g
Cholesterol:
9
mg
Sodium:
286
mg
Potassium:
628
mg
Fiber:
5
g
Sugar:
9
g
Vitamin A:
400
IU
Vitamin C:
110.6
mg
Calcium:
110
mg
Iron:
1.6
mg
Instructions
Preheat the oven to 400 degrees F.

Place the cabbage wedges on four separate sheets of aluminum foil large enough to fold over them.

Drizzle each with equal parts lemon juice, garlic, bacon, and salt.

Fold each wedge up into a package with the foil sealed on top.

Bake for 25 minutes, then serve hot.