group_id="1642″Everyone's favorite frozen banana stand inspired these Frozen Banana Bites. You know, the banana stand that's always got money in it. The one that'll make your banana stand. Arrested Development may have ended a long time ago, but I still think of it every time I throw a banana in the freezer (whether I'm going to cover it in chocolate or not). I'm even blessed to live in Austin, where we have our very own Arrested Development-inspired frozen banana stand. They even serve the Gob: Two bananas covered in chocolate and nuts, just as Gob liked 'em. I used to treat myself maybe once a week when I first moved up here. Before I figured out any of my food issues. Unfortunately, none of their offerings are particularly allergen-friendly, but it's still a neat place.
This version of a frozen banana is autoimmune protocol-friendly. Instead of chocolate, it's got a carob-based magic shell coating that takes about as much time to make as it does to say three times fast. Carob-based magic shell coating! But if you don't follow the AIP or have successfully reintroduced chocolate, then feel free to use a chocolate coating instead. To make one, mix the coconut oil with 1 1/2 ounces of dark chocolate. Here are some other fun, flavor-inspired topping combinations you might consider:
Keep it Simple with Freezer Cooking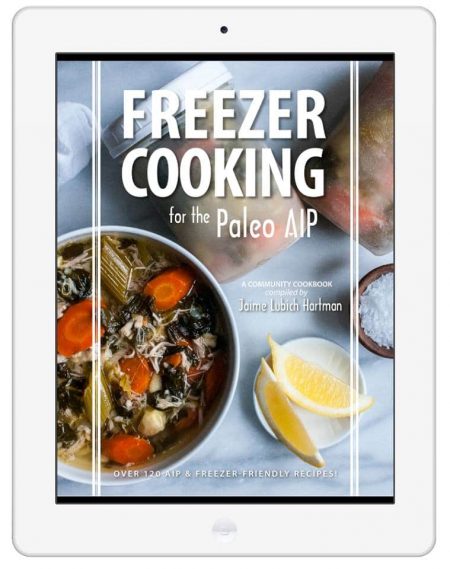 Preparing meals ahead of time and keeping them on hand in the freezer is one of the best ways to make any diet change sustainable. You'll wind up spending less time in the kitchen most days and will always have something ready to go when hunger or cravings strike. With Freezer Cooking for the Paleo AIP, you'll get 123 tried-and-true recipes from 30 of your favorite autoimmune protocol bloggers to help you out. Designed for batch cooking and advance prep, each recipe includes instructions for storing, freezing, and reheating it. There are recipes for every meal of the day and recipes for special occasions, too! The ebook is now available as a digital download for $18.90.
Nutrition Facts
Calories:
114
kcal
Carbohydrates:
10
g
Protein:
1
g
Fat:
8
g
Saturated Fat:
8
g
Polyunsaturated Fat:
0.2
g
Monounsaturated Fat:
0.3
g
Sodium:
2
mg
Potassium:
84
mg
Fiber:
1
g
Sugar:
5
g
Vitamin A:
20
IU
Vitamin C:
2.5
mg
Calcium:
10
mg
Iron:
0.1
mg
Instructions
Spear the bananas on toothpicks and then freeze for at least 1 hour.

Combine the coconut flakes and cinnamon in a small bowl.

In a mug, stir the coconut oil and carob powder together until well-mixed. The mixture will be thin, but you can use slightly more or less carob powder to taste.

Dip the frozen bananas one-by-one into the carob mixture and then into the coconut flakes. The coconut oil will firm when exposed to the frozen bananas.

Serve immediately or return to the freezer for storage.