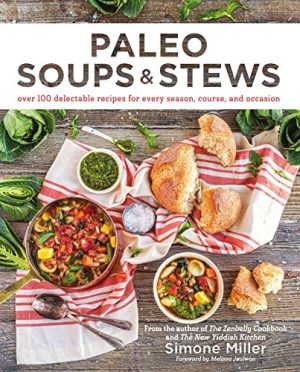 Simone Miller is one of my favorite chefs in the Paleosphere. She's already got some amazing cookbooks on the market and she's a 100% delightful personality in print or in person. And you know what she loves? Soup. I do, too. From savory broths to thick, creamy chowders, soup has got to be one of the most universally comforting meals. And it's a dish that adapts very well to whole-foods diets like Paleo or the autoimmune protocol. With over 100 recipes for broths, soups, stews, add-ins, sides, and garnishes, her latest book Paleo Soups and Stews goes above and beyond to prove that. Heck, this Five-Spice Beef Stew alone makes the book worth checking out.
There's something for every palate, occasion, and course. Classics like Gazpacho. Sweets like Orange Pistachio Soup. Hearty stews. Plus, though most of the recipes are written for the stovetop, Simone often includes instructions for other appliances like the slow-cooker, pressure-cooker, or Instant Pot. You'll get tips on pairing soups with sides and garnishes and a chart to help lower-carb, egg-free, nut-free, and AIP eaters navigate the recipes in the book with or without modifications. There's even a seasonal recipe index so you can plan your meals based on what's in season.
When I first cracked open her book, I knew immediately that I had to make this Five-Spice Beef Stew. It jumped out at me as a great way to get rid of some of the Chinese five spice I had lying around and don't have occasion to use that often–and wound up being an incredibly delicious, nutritious meal I was really sorry to see the end of. And I think it would still be stellar without the five-spice powder, which would make it AIP-friendly!
And there's plenty more more where that came from.
In addition to this Five-Spice Beef Stew, you'll get recipes like:
Spicy Shrimp and Chorizo Soup
Chocolate Soup with Graham Cracker Marshmallow Dippers
Summer Borscht
Moroccan Carrot and Wild Mushroom Bisque
Matzo Ball Soup
Roasted Plum Soup with Cinnamon Roll Cookies
Total Time:
2
hours
15
minutes
Nutrition Facts
Serving:
795.43
g
Calories:
962
kcal
Carbohydrates:
62.32
g
Protein:
117.49
g
Fat:
26.84
g
Saturated Fat:
11.92
g
Polyunsaturated Fat:
2.05
g
Monounsaturated Fat:
11.65
g
Trans Fat:
1.08
g
Cholesterol:
348.12
mg
Sodium:
2141.67
mg
Potassium:
2296.5
mg
Fiber:
7.01
g
Sugar:
21.73
g
Vitamin A:
35485
IU
Vitamin C:
43.5
mg
Calcium:
195
mg
Iron:
11.9
mg
Instructions
In a large, heavy-bottomed pot with a lid, heat the oil over medium-high heat. When the oil is shimmering, add the onion and saute until nicely browned, 5 to 6 minutes. Add the garlic, ginger, and Chinese five-spice and saute for another 30 seconds, until fragrant.

Add the broth, rice wine, and coconut aminos and bring to a boil. Season the beef with the salt and pepper and add it to the pot. Reduce the heat to low so that the liquid is just barely simmering. Cover and cook for 1 1/2 to 2 hours, until the beef is fork-tender.

In a small bowl, whisk together the tapioca starch with 1 cup of the stew liquid to create a slurry. Pour the slurry into the stew and stir.

Add the sweet potatoes and simmer for another 20 minutes, or until the potatoes are tender.

Add the bok choy and fish sauce and cook for another 5 minutes, until the bok choy is tender.

Serve the stew garnished with sliced green onions.