This recipe was inspired by an Apricot-Basil combination from HeartBeetKitchen. I like basil and apricots as much as the next person (in basil's case, probably more so!), but I've been looking to broaden my herb horizons. I can't put basil in everything. (I mean, I could. I really could. Love that stuff.) I also had some fig preserves to get rid of. Voila! Feel free to use any other kind of preserves you might have (or any other herb you might have, for that matter). This is a truly versatile recipe that will always yield something delicious! It's pictured with one of my favorite side dishes–my Mashed Plantains. Yum!
Looking for AIP-Friendly Breakfast Recipes?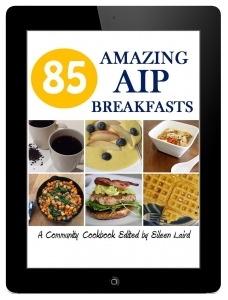 What to eat for breakfast is one of the most common questions I get from people starting the autoimmune protocol. I understand completely: With all my old staples off the table, breakfast was my biggest challenge, too. Well, now there's an easy answer. 85 Amazing AIP Breakfasts is a community e-cookbook featuring dozens of breakfast-friendly autoimmune protocol recipes from some of your favorite bloggers. With coffee substitutes, comforting teas, sausage, waffles, stir-fries, soups, hash, muffins, and porridge, 85 Amazing AIP Breakfasts has just about every one of your breakfast needs covered, sweet and savory alike. Many of the recipes can even be adapted for a low-FODMAP diet! The e-cookbook is available on editor Eileen Laird's website.
Ingredients
Chicken
1

pound

chicken

(thighs or breasts)

2

tablespoons

coconut oil
Equipment
Nutrition Facts
Calories:
400
kcal
Carbohydrates:
24
g
Protein:
34
g
Fat:
18
g
Saturated Fat:
10
g
Polyunsaturated Fat:
2
g
Monounsaturated Fat:
5
g
Cholesterol:
96
mg
Sodium:
812
mg
Potassium:
333
mg
Fiber:
1
g
Sugar:
21
g
Vitamin A:
12
%
Vitamin C:
5
%
Calcium:
2
%
Iron:
11
%
Instructions
Heat the avocado oil in a saucepan over medium-high heat and cook the shallot until translucent.

Add the remaining glaze ingredients and heat through, mixing well, then set aside.

Rub the chicken with the coconut oil until coated and heat any excess coconut oil in a large skillet over medium heat on the stove.

Cook the chicken for about 15 minutes per side, depending on how thick and fatty your cuts are. All the fat should be cooked off, the flesh should start to turn golden-brown, and the chicken should be cooked through.

Brush with glaze before serving.