It's been ages since I've had Chinese food. With so much of it breaded and fried, heaped over rice, and swimming in sauces made of soy and/or corn starch, it's not the most allergen-friendly cuisine. But with a few simple substitutions, it can be a wonderful source of inspiration for cooking at home. This Egg Roll Stir-Fry has everything I loved about egg rolls except for the crispy wonton wrapper, which, while it may have been the best part, certainly wasn't the healthiest. No, this dish serves up the savory meat and healthy veggie filling with a delicious, soy-free sauce that'll have your mouth watering in anticipation before it comes off the stove.
Keep your household clean, too!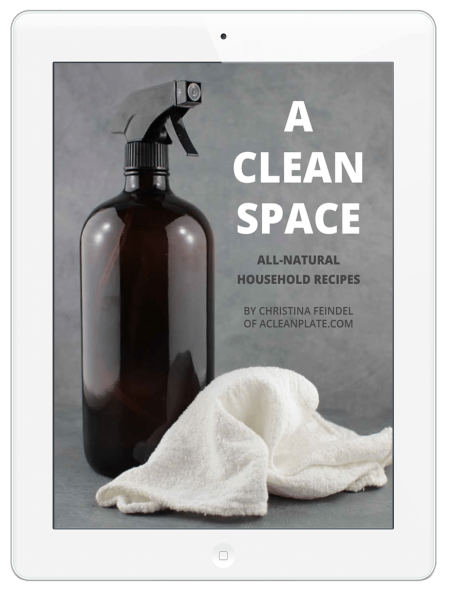 I may make my living as a food blogger, but my health-consciousness actually began long before I started cooking. Growing up with a sensitive nose and skin that would break out into a rash at the slightest provocation, I've been making my own cosmetics and cleaning products since high school. I hoped that avoiding these environmental toxins would not only improve my health, but be better for the environment and save me some money compared to buying high-end non-toxic products at a health-foods store. Whatever your reasons, making your own household products is easier than you might think. My e-book A Clean Space has all the tips, tricks, and recipes you need to get started–and it's only $6.99!
Nutrition Facts
Calories:
467
kcal
Carbohydrates:
27
g
Protein:
33
g
Fat:
25
g
Saturated Fat:
10
g
Polyunsaturated Fat:
2
g
Monounsaturated Fat:
11
g
Cholesterol:
106
mg
Sodium:
764
mg
Potassium:
1231
mg
Fiber:
12
g
Sugar:
12
g
Vitamin A:
10500
IU
Vitamin C:
111.4
mg
Calcium:
160
mg
Iron:
3.1
mg
Instructions
Heat the oil in a pan over medium-high and saute the onion, cabbage, and carrots until the onion is translucent, about 4 minutes.

Add the garlic to the pan and cook another 30 seconds.

Break the ground pork up into pieces and add to the pan, stir-frying until browned, about 5 minutes.

Add the aminos, fish sauce, ginger, and pepper and stir-fry another 3 minutes or until the pork is cooked through.

Serve garnished with green onions.