This Dairy-Free Rocky Road Ice Cream is a decadent treat perfect for these hot summer months. With Sweet Apricity marshmallows, it's a cinch to throw together, but it's delicious even if you have to leave them out. To make a non-AIP version, or if you have coconut allergies and/or do fine with dairy, substitute the coconut milk for equal parts milk, evaporated milk, and heavy cream. The carob can also be replaced with bittersweet chocolate for those of you that have already reintroduced it and the amount of honey should be adjusted to taste. Whether you like it bitter or sweet, this treat is sure to satisfy!
Struggling with thyroid disease?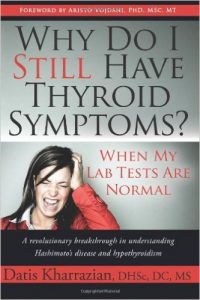 Why Do I Still Have Thyroid Symptoms?
by functional medicine practitioner Datis Kharrazian is single-handedly responsible for my improved health over the past few years. It introduced me to the connection between autoimmune disease and lifestyle factors like diet at a time when my doctors were telling me there was nothing wrong with my thyroid even though I had high antibodies. This book gave me the information I needed to get the right tests ordered and seek proper treatment. It's a must-have guide for anyone who has already been diagnosed with thyroid disease, who is at risk due to family history, or who strongly suspects they may have it but isn't sure where to start. I can't recommend it enough!
Instructions
Combine 2 tablespoons of the coconut milk with the arrowroot in a small bowl and set aside.

In a medium-sized saucepan over medium-high heat, bring the remaining coconut milk and honey to an active simmer, about 4 minutes.

Whisk in the arrowroot mixture, carob, and salt and stir until thick, another minute or so.

Let cool to room temperature, then refrigerate until cold, at least 30 minutes.


Run through your ice cream maker according to the manufacturer's instructions, adding the marshmallows and almonds as instructed.