Back when I was a vegetarian, every single one of my breakfasts consisted of a big ol' bowl of yogurt. With a handful of nuts for "protein", a lot of sliced fruit, some shredded coconut and maybe some chocolate chips if I was feeling naughty. I thought this was healthier than cereal, but it was still a heaping helping of sugar. Not gonna lie, I've kinda missed those meals (if not the way they made me feel), especially as the summer heat rears its ugly head. Welp, enter this super-simple Dairy-Free Frozen Coconut Yogurt. With only three ingredients and about five minutes of actual work, it's one of the easiest recipes I've ever made. It just requires some patience and the right kitchen tools: an Instant Pot or yogurt maker and an ice cream maker for churning. They'll do all the heavy lifting for you!
You should be able to use any multi-strain probiotic for this recipe. The one I used is I use Kirkman Pro-bio Gold. You'll also need sterilized mason jars to accommodate about two quarts of yogurt –you can use two one-quart jars or four one-pint jars to get the job done. My only other note? Once you've refrigerated the yogurt, your coconut milk may separate so it's really thick on top and thin on bottom. Give it a good stir before transferring it to the ice cream maker, and you'll be good to go!
Keep your household clean, too!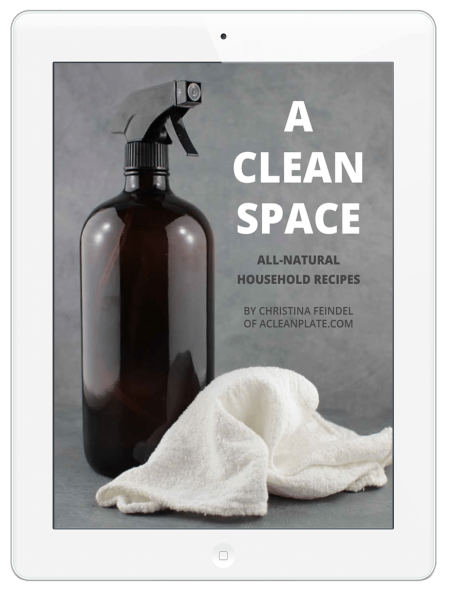 I may make my living as a food blogger, but my health-consciousness actually began long before I started cooking. Growing up with a sensitive nose and skin that would break out into a rash at the slightest provocation, I've been making my own cosmetics and cleaning products since high school. I hoped that avoiding these environmental toxins would not only improve my health, but be better for the environment and save me some money compared to buying high-end non-toxic products at a health-foods store. Whatever your reasons, making your own household products is easier than you might think. My e-book A Clean Space has all the tips, tricks, and recipes you need to get started–and it's only $6.99!
Nutrition Facts
Calories:
188
kcal
Carbohydrates:
9
g
Protein:
2
g
Fat:
16
g
Saturated Fat:
15
g
Sodium:
1
mg
Potassium:
3
mg
Sugar:
7
g
Iron:
4
%
Instructions
Divide the coconut cream and probiotic powder evenly between each of your jars and mix well. Cap the jars.

Place in a yogurt maker or Instant Pot with yogurt setting and follow the manufacturer's instructions for yogurt. (In the Instant Pot, this takes about 12 hours).

Refrigerate until cool.

To make frozen yogurt, stir the honey into the yogurt (using more or less to taste), then run through an ice cream maker according to the manufacturer's instructions.