Growing up, I was never a big fan of this holiday classic. Tart and lumpy, Cranberry Sauce just didn't get along with my over-sugared taste buds. I learned to love it when one of my cousins used it as a sauce for her turkey in lieu of gravy. Ever since, I've delighted in using fruits as a marinade or glaze for poultry and pork, and this Cranberry Sauce makes a great one. But it also shines well on its own for those of you who prefer to eat it by itself! Fall spices and a helping of orange juice round out the robust flavor of cranberries with honey added to taste.
Looking for AIP-Friendly Breakfast Recipes?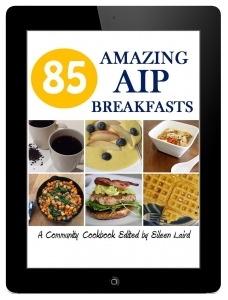 What to eat for breakfast is one of the most common questions I get from people starting the autoimmune protocol. I understand completely: With all my old staples off the table, breakfast was my biggest challenge, too. Well, now there's an easy answer. 85 Amazing AIP Breakfasts is a community e-cookbook featuring dozens of breakfast-friendly autoimmune protocol recipes from some of your favorite bloggers. With coffee substitutes, comforting teas, sausage, waffles, stir-fries, soups, hash, muffins, and porridge, 85 Amazing AIP Breakfasts has just about every one of your breakfast needs covered, sweet and savory alike. Many of the recipes can even be adapted for a low-FODMAP diet! The e-cookbook is available on editor Eileen Laird's website.
Nutrition Facts
Calories:
230
kcal
Carbohydrates:
52
g
Protein:
1
g
Fat:
0.3
g
Saturated Fat:
0.05
g
Polyunsaturated Fat:
0.1
g
Monounsaturated Fat:
0.04
g
Sodium:
2
mg
Potassium:
183
mg
Fiber:
9
g
Sugar:
31
g
Vitamin A:
150
IU
Vitamin C:
89.9
mg
Calcium:
10
mg
Iron:
0.4
mg
Instructions
Combine the cranberries and orange juice in a pot over medium heat and bring to a slow boil.

Add the remaining ingredients and stir to combine. Continue cooking over medium-low until the cranberries pop open and become tender.