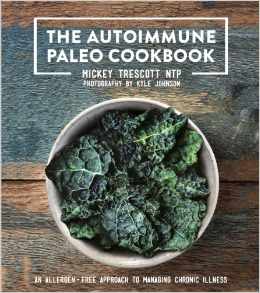 I met Mickey Trescott in the Hashimoto's 411 groups on Facebook, back when I ran their elimination diet group. Like me, she was a former vegan with both Hashimoto's and Celiac who was finally finding healing through the autoimmune protocol, a Paleo-style anti-inflammatory diet. Since her transition, she too has been blogging autoimmune protocol recipes, tips, and tricks over at Autoimmune-Paleo. Mickey has both helped and learned from a lot of people with all kinds of health concerns in the past few years. That she also works as a personal chef and is an NTP is a nice bonus, and her knowledge of both health and cooking makes The Autoimmune Paleo Cookbook a well-rounded and accessible resource for anyone interested in the diet.
I've made a couple of the recipes already, and my favorite ones so far are these Cranberry-Braised Short Ribs and Ginger-Baked Salmon. I had to adapt both for my own particular needs and still wound up with a great meal, and that's what I love about allergen-free cookbooks that stick to whole foods instead of flours and junk-food copycats: They're very easy to work around for odd issues like the fact that cauliflower makes me sneeze. While many of the recipes are available at her site, there are also a lot of new ones I can't wait to sink my teeth into, including an AIP blueberry-lemon cheesecake!
This is the first full-fledged autoimmune protocol cookbook on the market, and this one should keep us all well-informed and better-fed while we wait for other upcoming AIP cookbooks to round out our collection. It covers all the bases and walks the reader through everything he or she needs to know in simple, straightforward language. Not to mention how gorgeous the photography is!
The cookbook is available for purchase on Amazon.
Total Time:
3
hours
10
minutes
Nutrition Facts
Calories:
887
kcal
Carbohydrates:
17
g
Protein:
87
g
Fat:
50
g
Saturated Fat:
23
g
Polyunsaturated Fat:
2
g
Monounsaturated Fat:
20
g
Cholesterol:
268
mg
Sodium:
650
mg
Potassium:
1735
mg
Fiber:
3
g
Sugar:
9
g
Vitamin A:
700
IU
Vitamin C:
59.4
mg
Calcium:
60
mg
Iron:
10.6
mg
Instructions
Preheat the oven to 300F.

Heat the fat in a heavy-bottomed pot and sear the meat on all sides. Turn off the heat and salt to taste.

Add the remaining ingredients. Add a little bit more broth if the liquid doesn't reach 1/3 of the way up the meat.

Braise, covered, 2-3 hours in the oven. It is ready when the meat is falling off the bone.

Serve garnished with fresh parsley.