I. Love. Salads. They are the perfect healthy meal or side for those of us who just don't want to spend a lot of time in the kitchen, whether we're sick, busy, tired, or just plain lazy. (Or all of the above.) They're my go-to lunch for workdays and if you have some protein with breakfast you can probably get by without any for lunch if you don't want to be bothered for that, either. Seriously, I don't know what I'd do without salads to turn to. Paired with smoothies (which are really just salads that are put into the blender, at least the way I make them), salads are probably the #1 way I get my veggies. With a big helping of greens and just about anything you like thrown on top, they're a great way to get rid of leftovers, too. And making your own dressing doesn't have to be a pain in the butt! This Cranberry Avocado Salad with Raspberry Vinaigrette comes together in about five minutes flat and most of that is just chopping the avocado and red onion. The dressing goes in the blender for a few seconds and boom, you're good to go. Enjoy!
Need a Break From Cooking?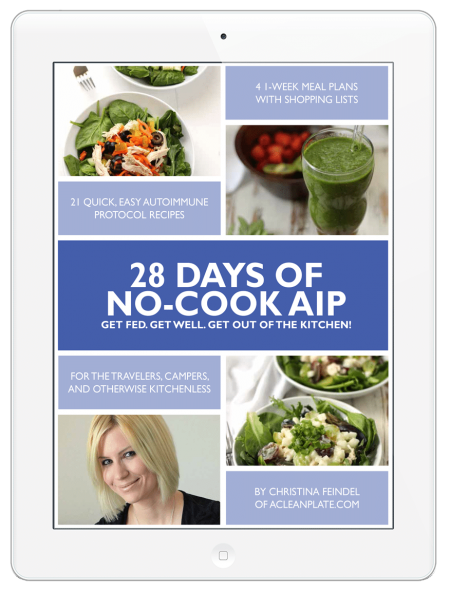 Whether you're traveling, moving, or just tired of spending so much time in the kitchen, 28 Days of No-Cook AIP can help. With four one-week meal plans designed for lazy days and/or a poorly-stocked kitchen, these simple dishes (including but not limited to salads, wraps, and smoothies) will make sticking to your autoimmune protocol diet during business trips, holiday travel, and times of illness or stress a lot easier! The e-book is now available as a digital download for $9.99.
Nutrition Facts
Calories:
449
kcal
Carbohydrates:
46
g
Protein:
10
g
Fat:
30
g
Saturated Fat:
4
g
Polyunsaturated Fat:
4
g
Monounsaturated Fat:
20
g
Sodium:
205
mg
Potassium:
1910
mg
Fiber:
19
g
Sugar:
22
g
Vitamin A:
24250
IU
Vitamin C:
122.1
mg
Calcium:
280
mg
Iron:
6.8
mg
Instructions
In a large bowl, combine the greens, avocado, red onion, and cranberries.

Combine the remaining ingredients in a blender and puree until smooth.

Pour over the salad, toss well, then serve.