I. Love. Salads. They are the perfect healthy meal or side for those of us who just don't want to spend a lot of time in the kitchen, whether we're sick, busy, tired, or just plain lazy. (Or all of the above.) They're my go-to lunch for workdays and if you have some protein with breakfast you can probably get by without any for lunch if you don't want to be bothered for that, either. Seriously, I don't know what I'd do without salads to turn to. Paired with smoothies (which are really just salads that are put into the blender, at least the way I make them), salads are probably the #1 way I get my veggies. With a big helping of greens and just about anything you like thrown on top, they're a great way to get rid of leftovers, too. And making your own dressing doesn't have to be a pain in the butt! This Cranberry Avocado Salad with Raspberry Vinaigrette comes together in about five minutes flat and most of that is just chopping the avocado and red onion. The dressing goes in the blender for a few seconds and boom, you're good to go. Enjoy!
Looking for AIP-Friendly Breakfast Recipes?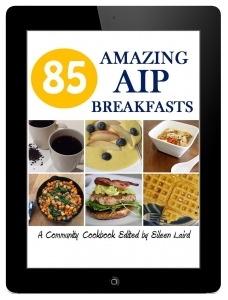 What to eat for breakfast is one of the most common questions I get from people starting the autoimmune protocol. I understand completely: With all my old staples off the table, breakfast was my biggest challenge, too. Well, now there's an easy answer. 85 Amazing AIP Breakfasts is a community e-cookbook featuring dozens of breakfast-friendly autoimmune protocol recipes from some of your favorite bloggers. With coffee substitutes, comforting teas, sausage, waffles, stir-fries, soups, hash, muffins, and porridge, 85 Amazing AIP Breakfasts has just about every one of your breakfast needs covered, sweet and savory alike. Many of the recipes can even be adapted for a low-FODMAP diet! The e-cookbook is available on editor Eileen Laird's website.
Nutrition Facts
Calories:
449
kcal
Carbohydrates:
46
g
Protein:
10
g
Fat:
30
g
Saturated Fat:
4
g
Polyunsaturated Fat:
4
g
Monounsaturated Fat:
20
g
Sodium:
205
mg
Potassium:
1910
mg
Fiber:
19
g
Sugar:
22
g
Vitamin A:
485
%
Vitamin C:
148
%
Calcium:
28
%
Iron:
38
%
Instructions
In a large bowl, combine the greens, avocado, red onion, and cranberries.

Combine the remaining ingredients in a blender and puree until smooth.

Pour over the salad, toss well, then serve.