I defy anyone to think of a hearty, classic American meal and not think of apple pie. I don't know how or why it became a symbol of Americana, but it's present at every small-town diner and holiday gathering you see (whether on film or in person). Now, I was never a big fan of pies. The flaky, flavorless crust just didn't do it for me, but I'd absolutely wolf down whatever was inside. And the soft, creamy Cinnamon Apples at the center of every apple pie were by far my favorite filling. Whether you serve this homemade version inside a grain-free pie crust, topped with coconut-based ice cream, or alongside your favorite meats and veggies, Cinnamon Apples are a welcome, comforting addition to just about any meal.
Don't Feel Like Cooking?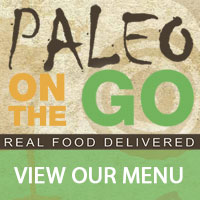 That's okay! Everyone needs a break sometimes, especially during busy times like the holidays or when you're sick or stressed out. When I find myself unwilling or unable to prepare healthy meals myself, I turn to Paleo on the Go. Yes, they have autoimmune protocol-friendly options! With tons of nutritious, delicious, pre-packaged meals, Paleo on the Go's ready-to-go, frozen courses are perfect for those days you just don't want to be in the kitchen. They even offer an appreciable selection of AIP-friendly treats, including toaster pastries!
Nutrition Facts
Calories:
200
kcal
Carbohydrates:
50
g
Protein:
4
g
Fat:
0.4
g
Saturated Fat:
0.1
g
Polyunsaturated Fat:
0.1
g
Monounsaturated Fat:
0.02
g
Sodium:
12
mg
Potassium:
323
mg
Fiber:
6
g
Sugar:
40
g
Vitamin A:
150
IU
Vitamin C:
30.5
mg
Calcium:
20
mg
Iron:
0.5
mg
Instructions
Combine the juice, honey, sugar, cinnamon, and ginger in a large saucepan over medium heat.

Bring to a boil, stirring constantly. Add the lemon juice and boil another minute, stirring.

Add the chopped apples and reduce the heat to medium-low. Stir until apples are soft.

Alternatively, combine all ingredients and slow cook in an Instant Pot for 4 hours on low.