I defy anyone to think of a hearty, classic American meal and not think of apple pie. I don't know how or why it became a symbol of Americana, but it's present at every small-town diner and holiday gathering you see (whether on film or in person). Now, I was never a big fan of pies. The flaky, flavorless crust just didn't do it for me, but I'd absolutely wolf down whatever was inside. And the soft, creamy Cinnamon Apples at the center of every apple pie were by far my favorite filling. Whether you serve this homemade version inside a grain-free pie crust, topped with coconut-based ice cream, or alongside your favorite meats and veggies, Cinnamon Apples are a welcome, comforting addition to just about any meal.
Struggling with thyroid disease?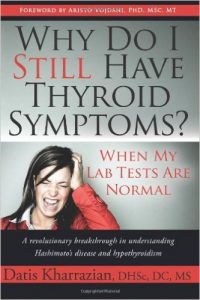 Why Do I Still Have Thyroid Symptoms? by functional medicine practitioner Datis Kharrazian is single-handedly responsible for my improved health over the past few years. It introduced me to the connection between autoimmune disease and lifestyle factors like diet at a time when my doctors were telling me there was nothing wrong with my thyroid even though I had high antibodies. This book gave me the information I needed to get the right tests ordered and seek proper treatment. It's a must-have guide for anyone who has already been diagnosed with thyroid disease, who is at risk due to family history, or who strongly suspects they may have it but isn't sure where to start. I can't recommend it enough!
Nutrition Facts
Calories:
200
kcal
Carbohydrates:
50
g
Protein:
4
g
Fat:
0.4
g
Saturated Fat:
0.1
g
Polyunsaturated Fat:
0.1
g
Monounsaturated Fat:
0.02
g
Sodium:
12
mg
Potassium:
323
mg
Fiber:
6
g
Sugar:
40
g
Vitamin A:
3
%
Vitamin C:
37
%
Calcium:
2
%
Iron:
3
%
Instructions
Combine the juice, honey, sugar, cinnamon, and ginger in a large saucepan over medium heat.

Bring to a boil, stirring constantly. Add the lemon juice and boil another minute, stirring.

Add the chopped apples and reduce the heat to medium-low. Stir until apples are soft.

Alternatively, combine all ingredients and slow cook in an Instant Pot for 4 hours on low.