I defy anyone to think of a hearty, classic American meal and not think of apple pie. I don't know how or why it became a symbol of Americana, but it's present at every small-town diner and holiday gathering you see (whether on film or in person). Now, I was never a big fan of pies. The flaky, flavorless crust just didn't do it for me, but I'd absolutely wolf down whatever was inside. And the soft, creamy Cinnamon Apples at the center of every apple pie were by far my favorite filling. Whether you serve this homemade version inside a grain-free pie crust, topped with coconut-based ice cream, or alongside your favorite meats and veggies, Cinnamon Apples are a welcome, comforting addition to just about any meal.
Make your own non-toxic cosmetics!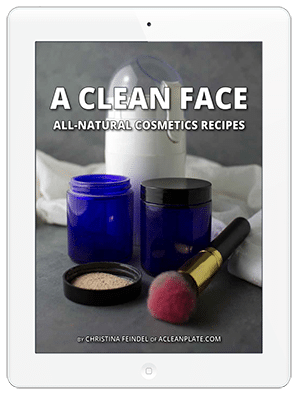 I may make my living as a food blogger, but journey toward a more health-conscious lifestyle actually began with making my own cosmetics while I was still in high school–many years before I started "clean eating". Desperate to get a handle on my sensitive skin and nose, I was also hoping for cheaper, more eco-friendly alternatives to store-bought products. If you're in the same boat, making your own cosmetics and toiletries is easier than you might think! My e-book A Clean Face will give you the tools you need to get started for just $9.99.
Nutrition Facts
Calories:
200
kcal
Carbohydrates:
50
g
Protein:
4
g
Fat:
0.4
g
Saturated Fat:
0.1
g
Polyunsaturated Fat:
0.1
g
Monounsaturated Fat:
0.02
g
Sodium:
12
mg
Potassium:
323
mg
Fiber:
6
g
Sugar:
40
g
Vitamin A:
150
IU
Vitamin C:
30.5
mg
Calcium:
20
mg
Iron:
0.5
mg
Instructions
Combine the juice, honey, sugar, cinnamon, and ginger in a large saucepan over medium heat.

Bring to a boil, stirring constantly. Add the lemon juice and boil another minute, stirring.

Add the chopped apples and reduce the heat to medium-low. Stir until apples are soft.

Alternatively, combine all ingredients and slow cook in an Instant Pot for 4 hours on low.