There's really no snack like cinnamon apple chips, especially this time of year. They're just so satisfying! But buying them packaged gets pricey quick, while making them yourself is not only cheap and easy, but will fill your house with the sweet scent of apples and cinnamon. Mmm. If you don't have a dehydrator, you can bake them at 200F for about two hours on a parchment-lined baking sheet. You'll want to keep an eye on them, though, to make sure they don't burn and to rotate them periodically if your oven has hot spots. As for the apples to use, I favor sweet red ones like Fuji or Gala, but absolutely any kind of apple will do. Having a mandolin slicer is definitely useful for this recipe, too.
Make your own non-toxic cosmetics!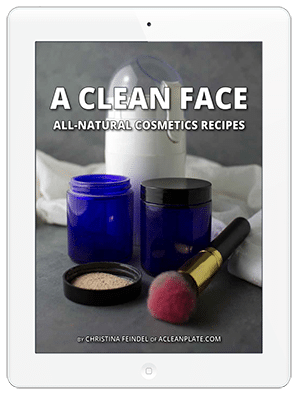 I may make my living as a food blogger, but journey toward a more health-conscious lifestyle actually began with making my own cosmetics while I was still in high school–many years before I started "clean eating". Desperate to get a handle on my sensitive skin and nose, I was also hoping for cheaper, more eco-friendly alternatives to store-bought products. If you're in the same boat, making your own cosmetics and toiletries is easier than you might think! My e-book A Clean Face will give you the tools you need to get started for just $9.99.
Nutrition Facts
Calories:
20
kcal
Carbohydrates:
5
g
Protein:
0.1
g
Fat:
0.1
g
Saturated Fat:
0.01
g
Polyunsaturated Fat:
0.02
g
Monounsaturated Fat:
0.003
g
Sodium:
0.3
mg
Potassium:
37
mg
Fiber:
1
g
Sugar:
4
g
Vitamin A:
1
%
Vitamin C:
3
%
Calcium:
0.3
%
Iron:
0.3
%
Instructions
Arrange the sliced apples in a single layer on the dehydrator sheets. Dust with cinnamon.

Dehydrate at 135F until the apples are shriveled and crisp, about 4 hours.