There's really no snack like cinnamon apple chips, especially this time of year. They're just so satisfying! But buying them packaged gets pricey quick, while making them yourself is not only cheap and easy, but will fill your house with the sweet scent of apples and cinnamon. Mmm. If you don't have a dehydrator, you can bake them at 200F for about two hours on a parchment-lined baking sheet. You'll want to keep an eye on them, though, to make sure they don't burn and to rotate them periodically if your oven has hot spots. As for the apples to use, I favor sweet red ones like Fuji or Gala, but absolutely any kind of apple will do. Having a mandolin slicer is definitely useful for this recipe, too.
Looking for AIP-Friendly Breakfast Recipes?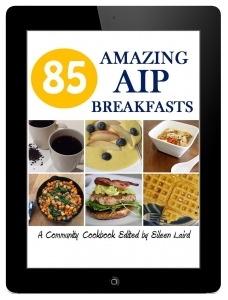 What to eat for breakfast is one of the most common questions I get from people starting the autoimmune protocol. I understand completely: With all my old staples off the table, breakfast was my biggest challenge, too. Well, now there's an easy answer. 85 Amazing AIP Breakfasts is a community e-cookbook featuring dozens of breakfast-friendly autoimmune protocol recipes from some of your favorite bloggers. With coffee substitutes, comforting teas, sausage, waffles, stir-fries, soups, hash, muffins, and porridge, 85 Amazing AIP Breakfasts has just about every one of your breakfast needs covered, sweet and savory alike. Many of the recipes can even be adapted for a low-FODMAP diet! The e-cookbook is available on editor Eileen Laird's website.
Nutrition Facts
Calories:
20
kcal
Carbohydrates:
5
g
Protein:
0.1
g
Fat:
0.1
g
Saturated Fat:
0.01
g
Polyunsaturated Fat:
0.02
g
Monounsaturated Fat:
0.003
g
Sodium:
0.3
mg
Potassium:
37
mg
Fiber:
1
g
Sugar:
4
g
Vitamin A:
50
IU
Vitamin C:
2.5
mg
Calcium:
3
mg
Iron:
0.1
mg
Instructions
Arrange the sliced apples in a single layer on the dehydrator sheets. Dust with cinnamon.

Dehydrate at 135F until the apples are shriveled and crisp, about 4 hours.