Now, I know this recipe doesn't look like much. Green meat isn't usually the most appetizing thing on the planet, and on the autoimmune protocol, one can't exactly throw in red chilies for some contrast. But with a creamy marinade of herbs, lime, and coconut milk inspired by green curry, this Cilantro-Lime Chicken is a mild, flavorful dish. It pairs well with cauliflower rice!
Make your own non-toxic cosmetics!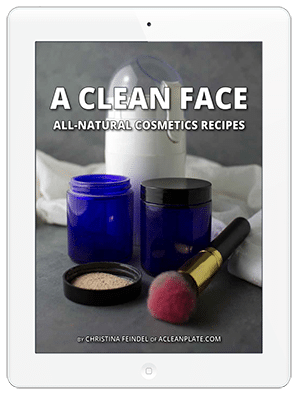 I may make my living as a food blogger, but journey toward a more health-conscious lifestyle actually began with making my own cosmetics while I was still in high school–many years before I started "clean eating". Desperate to get a handle on my sensitive skin and nose, I was also hoping for cheaper, more eco-friendly alternatives to store-bought products. If you're in the same boat, making your own cosmetics and toiletries is easier than you might think! My e-book A Clean Face will give you the tools you need to get started for just $9.99.
Total Time:
8
hours
20
minutes
Instructions
Combine all of the ingredients except the chicken in a blender and process until smooth.

Place the chicken in an airtight container and pour the sauce on top. Marinate in the refrigerator overnight.

Heat a large skillet over medium heat. Add the chicken and marinade to the pan and bring to a boil. Reduce the heat to medium-low, then simmer until the chicken is cooked through, about 20 minutes.