Now, I know this recipe doesn't look like much. Green meat isn't usually the most appetizing thing on the planet, and on the autoimmune protocol, one can't exactly throw in red chilies for some contrast. But with a creamy marinade of herbs, lime, and coconut milk inspired by green curry, this Cilantro-Lime Chicken is a mild, flavorful dish. It pairs well with cauliflower rice!
Struggling with thyroid disease?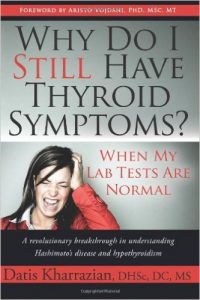 Why Do I Still Have Thyroid Symptoms? by functional medicine practitioner Datis Kharrazian is single-handedly responsible for my improved health over the past few years. It introduced me to the connection between autoimmune disease and lifestyle factors like diet at a time when my doctors were telling me there was nothing wrong with my thyroid even though I had high antibodies. This book gave me the information I needed to get the right tests ordered and seek proper treatment. It's a must-have guide for anyone who has already been diagnosed with thyroid disease, who is at risk due to family history, or who strongly suspects they may have it but isn't sure where to start. I can't recommend it enough!
Total Time:
8
hours
20
minutes
Instructions
Combine all of the ingredients except the chicken in a blender and process until smooth.

Place the chicken in an airtight container and pour the sauce on top. Marinate in the refrigerator overnight.

Heat a large skillet over medium heat. Add the chicken and marinade to the pan and bring to a boil. Reduce the heat to medium-low, then simmer until the chicken is cooked through, about 20 minutes.