Now, I know this recipe doesn't look like much. Green meat isn't usually the most appetizing thing on the planet, and on the autoimmune protocol, one can't exactly throw in red chilies for some contrast. But with a creamy marinade of herbs, lime, and coconut milk inspired by green curry, this Cilantro-Lime Chicken is a mild, flavorful dish. It pairs well with cauliflower rice!
Don't Feel Like Cooking?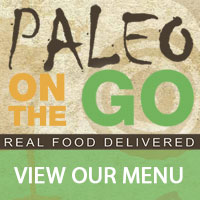 That's okay! Everyone needs a break sometimes, especially during busy times like the holidays or when you're sick or stressed out. When I find myself unwilling or unable to prepare healthy meals myself, I turn to Paleo on the Go. Yes, they have autoimmune protocol-friendly options! With tons of nutritious, delicious, pre-packaged meals, Paleo on the Go's ready-to-go, frozen courses are perfect for those days you just don't want to be in the kitchen. They even offer an appreciable selection of AIP-friendly treats, including toaster pastries!
Total Time:
8
hours
20
minutes
Instructions
Combine all of the ingredients except the chicken in a blender and process until smooth.

Place the chicken in an airtight container and pour the sauce on top. Marinate in the refrigerator overnight.

Heat a large skillet over medium heat. Add the chicken and marinade to the pan and bring to a boil. Reduce the heat to medium-low, then simmer until the chicken is cooked through, about 20 minutes.