I first encountered chocolate soda (also called egg cream soda–I have no idea why) at a tiny little diner here in Austin about a year ago, and any time I find myself craving a chocolaty beverage, I find myself thinking about it. It's just so… weird. Like carbonated chocolate milk. I love breaking out this recipe for company simply for the novelty of it; I feel like it's one of those things you should try at least once in your life. You might think you prefer to keep your chocolate milk and soda separate, but you never know until you try. Any rich, black tea will work for this recipe, although if you can find one with mint or orange in it, I find those flavors go really well here. You could also leave out the tea and add a splash of herbal coffee instead if you want a bit more of a kick out of your soda!
Keep Your Health on Track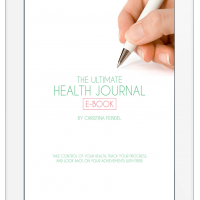 Whether you're starting the autoimmune protocol, a new medication, an exercise routine or trying to get to the bottom of your headaches or indigestion, cataloging your activities and symptoms is a great way to gauge your progress. The Ultimate Health Journal can help you stay on track with diet, fitness, and other lifestyle changes you have begun or been prescribed, notice patterns in your health and lifestyle so you can enact positive changes, and provide a valuable tool for you, your family, and your healthcare team. I would never have noticed that cinnamon makes me sneeze or dairy gives me hiccups without keeping a written record during my elimination diet, which helped me see the patterns that solved my problems! The ebook is available as a digital download with printable template for $6.99.
Nutrition Facts
Calories:
226
kcal
Carbohydrates:
9
g
Protein:
3
g
Fat:
22
g
Saturated Fat:
19
g
Polyunsaturated Fat:
0.03
g
Monounsaturated Fat:
0.3
g
Sodium:
38
mg
Potassium:
112
mg
Fiber:
2
g
Sugar:
2
g
Calcium:
1
%
Iron:
8
%
Instructions
Combine the tea bag, syrup, carob, and water in a large heat-safe glass (I like to use a measuring cup for easy pouring). Steep five minutes, then remove the tea bag.

Chill in the refrigerator until cold.

Divide the mixture between two medium-sized glasses. Add 1/2 a cup of coconut milk to each and top off with sparkling water.