I love peach salsa, but I don't bother making it much anymore since I can't just shovel it into my mouth with tortilla chips. I mean, peaches, tomatoes, and onions? Who thought of that? It sounds weird, but tastes amazing. It used to be one of my favorite snacks. But salsa is used for more than just chips: You'll see recipes featuring it on fish or chicken if you browse around any big food site long enough. So now, this Chili Pork with Peach Salsa is my favorite way to get some of that oh-so-delicious condiment into my life. The list of ingredients may look daunting, but that's only because there are so many spices adding depth and heat to this very simple dish. Plus, it's ready in about 30 minutes, which makes it a great choice for a busy weeknight! In addition to serving it on wraps or in a soup with whatever toppings sound good to you (avocado, for one!), here are some side dishes that work well with its flavors:
Keep Your Health on Track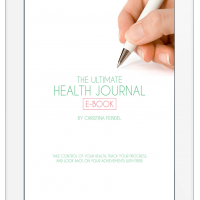 Whether you're starting the autoimmune protocol, a new medication, an exercise routine or trying to get to the bottom of your headaches or indigestion, cataloging your activities and symptoms is a great way to gauge your progress. The Ultimate Health Journal can help you stay on track with diet, fitness, and other lifestyle changes you have begun or been prescribed, notice patterns in your health and lifestyle so you can enact positive changes, and provide a valuable tool for you, your family, and your healthcare team. I would never have noticed that cinnamon makes me sneeze or dairy gives me hiccups without keeping a written record during my elimination diet, which helped me see the patterns that solved my problems! The ebook is available as a digital download with printable template for $6.99.
Nutrition Facts
Calories:
235
kcal
Carbohydrates:
11
g
Protein:
24
g
Fat:
10
g
Saturated Fat:
6
g
Polyunsaturated Fat:
1
g
Monounsaturated Fat:
3
g
Cholesterol:
75
mg
Sodium:
417
mg
Potassium:
591
mg
Fiber:
2
g
Sugar:
7
g
Vitamin A:
12
%
Vitamin C:
14
%
Calcium:
2
%
Iron:
11
%
Instructions
Combine the pork ingredients in a mixing bowl and toss to coat. In a large skillet over medium-high heat, cook 5 minutes, stirring occasionally.

Meanwhile, combine all of the salsa ingredients in a saucepan and bring to a boil. Simmer 5 minutes, stirring frequently.

Pour the salsa over the pork, reduce the heat to medium, cover the skillet, and simmer 10-15 minutes until the pork is cooked through.