I love peach salsa, but I don't bother making it much anymore since I can't just shovel it into my mouth with tortilla chips. I mean, peaches, tomatoes, and onions? Who thought of that? It sounds weird, but tastes amazing. It used to be one of my favorite snacks. But salsa is used for more than just chips: You'll see recipes featuring it on fish or chicken if you browse around any big food site long enough. So now, this Chili Pork with Peach Salsa is my favorite way to get some of that oh-so-delicious condiment into my life. The list of ingredients may look daunting, but that's only because there are so many spices adding depth and heat to this very simple dish. Plus, it's ready in about 30 minutes, which makes it a great choice for a busy weeknight! In addition to serving it on wraps or in a soup with whatever toppings sound good to you (avocado, for one!), here are some side dishes that work well with its flavors:
Keep it Simple with Freezer Cooking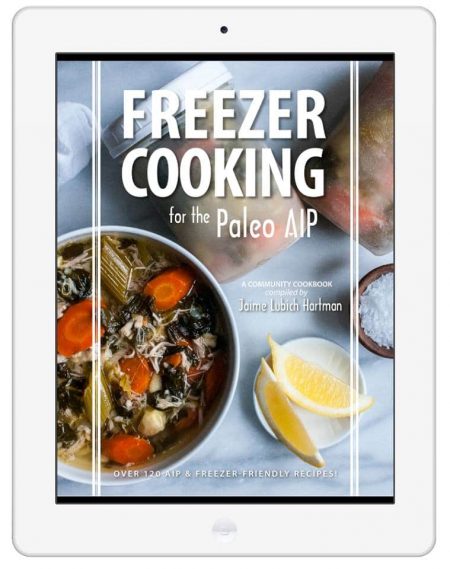 Preparing meals ahead of time and keeping them on hand in the freezer is one of the best ways to make any diet change sustainable. You'll wind up spending less time in the kitchen most days and will always have something ready to go when hunger or cravings strike. With Freezer Cooking for the Paleo AIP, you'll get 123 tried-and-true recipes from 30 of your favorite autoimmune protocol bloggers to help you out. Designed for batch cooking and advance prep, each recipe includes instructions for storing, freezing, and reheating it. There are recipes for every meal of the day and recipes for special occasions, too! The ebook is now available as a digital download for $18.90.
Nutrition Facts
Calories:
235
kcal
Carbohydrates:
11
g
Protein:
24
g
Fat:
10
g
Saturated Fat:
6
g
Polyunsaturated Fat:
1
g
Monounsaturated Fat:
3
g
Cholesterol:
75
mg
Sodium:
417
mg
Potassium:
591
mg
Fiber:
2
g
Sugar:
7
g
Vitamin A:
600
IU
Vitamin C:
11.6
mg
Calcium:
20
mg
Iron:
2
mg
Instructions
Combine the pork ingredients in a mixing bowl and toss to coat. In a large skillet over medium-high heat, cook 5 minutes, stirring occasionally.

Meanwhile, combine all of the salsa ingredients in a saucepan and bring to a boil. Simmer 5 minutes, stirring frequently.

Pour the salsa over the pork, reduce the heat to medium, cover the skillet, and simmer 10-15 minutes until the pork is cooked through.