I love peach salsa, but I don't bother making it much anymore since I can't just shovel it into my mouth with tortilla chips. I mean, peaches, tomatoes, and onions? Who thought of that? It sounds weird, but tastes amazing. It used to be one of my favorite snacks. But salsa is used for more than just chips: You'll see recipes featuring it on fish or chicken if you browse around any big food site long enough. So now, this Chili Pork with Peach Salsa is my favorite way to get some of that oh-so-delicious condiment into my life. The list of ingredients may look daunting, but that's only because there are so many spices adding depth and heat to this very simple dish. Plus, it's ready in about 30 minutes, which makes it a great choice for a busy weeknight! In addition to serving it on wraps or in a soup with whatever toppings sound good to you (avocado, for one!), here are some side dishes that work well with its flavors:
Keep your household clean, too!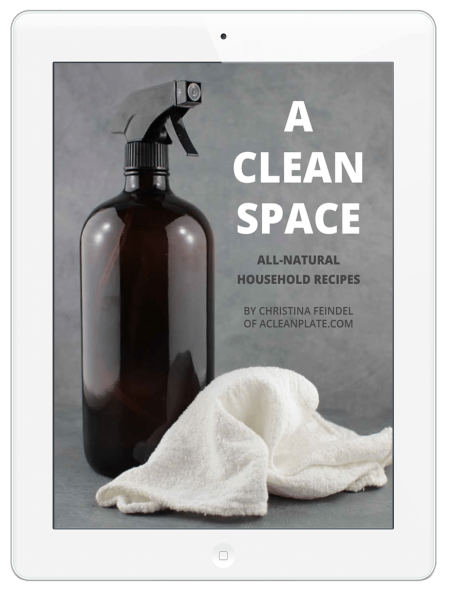 I may make my living as a food blogger, but my health-consciousness actually began long before I started cooking. Growing up with a sensitive nose and skin that would break out into a rash at the slightest provocation, I've been making my own cosmetics and cleaning products since high school. I hoped that avoiding these environmental toxins would not only improve my health, but be better for the environment and save me some money compared to buying high-end non-toxic products at a health-foods store. Whatever your reasons, making your own household products is easier than you might think. My e-book A Clean Space has all the tips, tricks, and recipes you need to get started–and it's only $6.99!
Nutrition Facts
Calories:
235
kcal
Carbohydrates:
11
g
Protein:
24
g
Fat:
10
g
Saturated Fat:
6
g
Polyunsaturated Fat:
1
g
Monounsaturated Fat:
3
g
Cholesterol:
75
mg
Sodium:
417
mg
Potassium:
591
mg
Fiber:
2
g
Sugar:
7
g
Vitamin A:
12
%
Vitamin C:
14
%
Calcium:
2
%
Iron:
11
%
Instructions
Combine the pork ingredients in a mixing bowl and toss to coat. In a large skillet over medium-high heat, cook 5 minutes, stirring occasionally.

Meanwhile, combine all of the salsa ingredients in a saucepan and bring to a boil. Simmer 5 minutes, stirring frequently.

Pour the salsa over the pork, reduce the heat to medium, cover the skillet, and simmer 10-15 minutes until the pork is cooked through.