I have a confession to make: I never liked chicken pot pie. I had an aversion to both pie crusts and peas, which traditional chicken pot pie has in abundance. But I love the idea of chicken pot pie: A hearty blend of poultry, vegetables, and gravy served up in a convenient little package. It sounds like the perfect comfort food, right? So, enter this autoimmune protocol-friendly Chicken Pot Pie Soup! This is a recipe from my e-book 28 Days of One-Pot AIP, which features simple, one-pot AIP recipes for easy prep and easy cleanup. This recipe uses asparagus in lieu of peas and swaps the crust for a bowl for a dish that's just as comforting and even more convenient. It isn't as thick and creamy as traditional chicken pot pie because I didn't feel like adding thickeners, but if you prefer a creamier texture, by all means add a few tablespoons of arrowroot starch before bringing the pot to a boil and stir constantly until it dissolves. If you eat peas, you can use them instead of the asparagus (about two cups), but broccoli also works well!
Treat Your Sweet Tooth!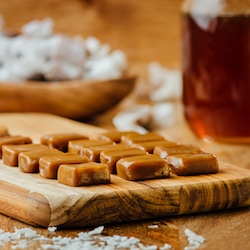 Being on a restricted diet doesn't mean you have to give up every indulgence. Temptation can be rough, and when it strikes, it's nice to have something on hand that's safe to eat. Enter Sweet Apricity. They make creamy, delicious caramels and fluffy marshmallows that just so happen to be 100% autoimmune protocol-friendly. With excellent customer service, high-quality ingredients, a subscribe and save program, and some of the most incredible sweets you'll encounter on the AIP, your sweet tooth doesn't have to go wanting. Plus, they're a great gift for anyone with food sensitivities! Get 10% off with coupon code CleanPlateHolidays now through January 30th, 2020!
Nutrition Facts
Calories:
467
kcal
Carbohydrates:
25
g
Protein:
40
g
Fat:
24
g
Saturated Fat:
15
g
Polyunsaturated Fat:
2
g
Monounsaturated Fat:
4
g
Cholesterol:
96
mg
Sodium:
1539
mg
Potassium:
1126
mg
Fiber:
8
g
Sugar:
10
g
Vitamin A:
22250
IU
Vitamin C:
29.7
mg
Calcium:
130
mg
Iron:
9.4
mg
Instructions
Heat the fat in a large stockpot over medium heat, then add the onion and cook 5-7 minutes, until soft.

Add the chicken and cook until seared on all sides, about 5 minutes, stirring occasionally.

Add the remaining vegetables and cook another 5 minutes.

Add the broth, coconut milk, and seasonings and bring to a boil, then reduce the heat to medium-low and simmer about 20 minutes.