A Korean barbecue recipe, Chicken Bulgogi is typically made with a spicy marinade of soy sauce, brown sugar, and sesame oil, then pan-fried to golden-brown perfection and topped with a sprinkle of sesame seeds. Despite all those forbidden ingredients, this autoimmune protocol version isn't far off in terms of taste. With rich Asian-inspired flavors, it pairs exceptionally well with cauliflower rice and stir-fried vegetables. If you'd like, you could even double the amount of marinade and set half aside to cook with some broccoli, carrots, water chestnuts, mushrooms, and/or other stir-fry veggies for a quick and easy accompaniment! It's one of my favorite tricks for a quick and easy weeknight meal that's guaranteed to satisfy the whole table (and make for some tasty lunchtime leftovers the next day).
Looking for AIP-Friendly Breakfast Recipes?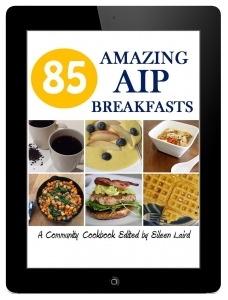 What to eat for breakfast is one of the most common questions I get from people starting the autoimmune protocol. I understand completely: With all my old staples off the table, breakfast was my biggest challenge, too. Well, now there's an easy answer. 85 Amazing AIP Breakfasts is a community e-cookbook featuring dozens of breakfast-friendly autoimmune protocol recipes from some of your favorite bloggers. With coffee substitutes, comforting teas, sausage, waffles, stir-fries, soups, hash, muffins, and porridge, 85 Amazing AIP Breakfasts has just about every one of your breakfast needs covered, sweet and savory alike. Many of the recipes can even be adapted for a low-FODMAP diet! The e-cookbook is available on editor Eileen Laird's website.
Nutrition Facts
Calories:
349
kcal
Carbohydrates:
15
g
Protein:
34
g
Fat:
16
g
Saturated Fat:
3
g
Polyunsaturated Fat:
3
g
Monounsaturated Fat:
9
g
Cholesterol:
96
mg
Sodium:
864
mg
Potassium:
338
mg
Fiber:
4
g
Sugar:
8
g
Vitamin A:
200
IU
Vitamin C:
4.1
mg
Calcium:
3
mg
Iron:
1.4
mg
Instructions
Combine all ingredients in an airtight container, mix well, and marinate in the refrigerator for at least 30 minutes or overnight.

Heat a large skillet over medium-high and cook the chicken and marinade until cooked through, about 15 minutes, stirring occasionally.