A Korean barbecue recipe, Chicken Bulgogi is typically made with a spicy marinade of soy sauce, brown sugar, and sesame oil, then pan-fried to golden-brown perfection and topped with a sprinkle of sesame seeds. Despite all those forbidden ingredients, this autoimmune protocol version isn't far off in terms of taste. With rich Asian-inspired flavors, it pairs exceptionally well with cauliflower rice and stir-fried vegetables. If you'd like, you could even double the amount of marinade and set half aside to cook with some broccoli, carrots, water chestnuts, mushrooms, and/or other stir-fry veggies for a quick and easy accompaniment! It's one of my favorite tricks for a quick and easy weeknight meal that's guaranteed to satisfy the whole table (and make for some tasty lunchtime leftovers the next day).
Need Help Meal Planning?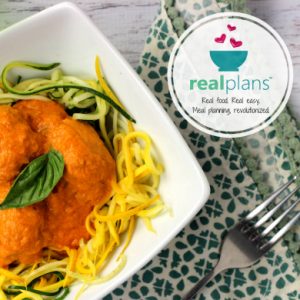 Feeling uninspired or struggling to stick to your Paleo or autoimmune protocol diet? It helps to have a plan. Real Plans will create a custom plan for your family's size, schedule, and needs and it's just $6/month if you sign up for an annual subscription. This is a great next step for those of you that have finished 28 Days of AIP and are looking to keep the ball rolling with new, exciting recipes!
Nutrition Facts
Calories:
349
kcal
Carbohydrates:
15
g
Protein:
34
g
Fat:
16
g
Saturated Fat:
3
g
Polyunsaturated Fat:
3
g
Monounsaturated Fat:
9
g
Cholesterol:
96
mg
Sodium:
864
mg
Potassium:
338
mg
Fiber:
4
g
Sugar:
8
g
Vitamin A:
4
%
Vitamin C:
5
%
Calcium:
0.3
%
Iron:
8
%
Instructions
Combine all ingredients in an airtight container, mix well, and marinate in the refrigerator for at least 30 minutes or overnight.

Heat a large skillet over medium-high and cook the chicken and marinade until cooked through, about 15 minutes, stirring occasionally.