One of the most common complaints I hear about a gluten-free or elimination diet — and one of the most common excuses to avoid doing it in the first place — is how expensive it is. I can't tell you how many times a day I hear "It sucks that eating healthy is more expensive than eating junk!" I think we've all said it at some point along the way, and the assumption is an easy one to make. If you compare a pound of gluten-free pasta to a pound of whole-wheat pasta, yes, it's more expensive. If you compare a pound of conventional (never mind free-range) chicken thighs ($1.49) to a pound of beans ($0.68), yes, it's more expensive. But that's the superficial data. Digging deeper, you'll find that eating real, whole foods is actually no more expensive than living on processed foods (especially gluten-free or even Paleo processed foods). In fact, when it comes to a food's nutrient density and fullness factor, you get way more bang for your buck.
Why Healthy Food Isn't Too Expensive
Let's actually look at what's in that can of beans. When you buy food, you are paying for nutrients. That's protein, fat, carbs, vitamins, and minerals. You want your food to satisfy your hunger, because if it doesn't, you're going to eat (and therefore spend) more. What makes a food filling is its protein, fat, and carb content — it's macronutrients. A meal needs all three to fill you up. What makes a food healthy is its vitamin and mineral content — its micronutrients. You need to meet a daily minimum of those to maintain your health. Calories are the amount of energy and satiety a food will give you, and they are determined by how much of each macronutrient a food has. Nutrient-dense foods have the highest ratio of micronutrients to calories, i.e., you are getting more vitamins and minerals per calorie. For the most part, calories should be completely ignored. If you're looking at the macronutrient and micronutrient profile of a food and things look pretty good, then go for it even if it has lots of calories. If a food has no calories, it also has no nutrients, so skip it. Let's say that a little differently: High-calorie foods are totally fine as long as those calories are not coming from sugar, alcohol, or trans fat. The healthiest foods will have a wide variety of both macronutrients and micronutrients. So, how 'bout that can of beans?
One ounce of kidney beans ($0.68 a pound) has:
24 calories
1 gram of protein and an amino acid score of 90 (this food needs a complementary food to achieve a complete amino acid profile; a food with a complete amino acid profile scores 100 or higher)
0 grams of fat
4 grams of carbs, only one of which is fiber
A little sodium, phosphorous, and folate (about 3% of the average daily need), with negligible amounts (2% or less) of other vitamins and minerals
So, when you pay $0.68 for a can of black beans, you are mostly paying for a can of carbs and salt. There are no notable vitamins or minerals, and the protein content is negligible. Now, let's look at one ounce of chicken thighs ($1.49 a pound):
55 calories
7 grams of protein and an amino acid of 136 (has a complete amino acid profile)
3 grams of fat, one of which is saturated
0 grams of carbs
Good amounts of B vitamins, phosphorus, zinc, and selenium (about 8% of the average daily need), with moderate-to-negligble amounts (3% or less) of other vitamins and minerals
When you pay a little over twice as much for a pound of chicken thighs, you are getting twice as many calories, seven times as much protein, 3 more grams of healthy (and filling) fats, and no unnecessary carbs. Beans don't have any micronutrients that chicken doesn't have, and chicken has much higher amounts. If beans are your primary protein source, you need seven cans — that's seven pounds for $4.76 — to get the same amount of protein you'd get from one pound of chicken thighs for $1.49. Not only that, but the protein in beans isn't complete, which means that you need a second food like grains, nuts, or meat to round out your protein intake for that meal.
Okay, that's beans. But what about rice and potatoes and all those other cheap foods? What about other sources of complete proteins, like eggs? Well, see for yourself. Compare the chicken above to one ounce of brown rice and one ounce of eggs. You'll see that brown rice doesn't come anywhere near a viable protein source unless you add it to your beans, but that if you do, you are getting way more carbs than you are protein and you still aren't getting any healthy fats — which is a bad thing. The eggs come pretty close to chicken and have a different variety of nutrients, but unless you are getting a dozen eggs for $0.75 or less, you are still not getting as much protein as you would from a pound of chicken thighs for the money you invest.
Finally, let's compare some vegetables. Take a look at a baked white-fleshed potato and compare it to a baked sweet potato. They have about the same amount of calories and neither has any fat. They have the same amount of carbs and protein, and neither is a good source of protein. They have all the same nutrients, except that sweet potatoes have a higher amount of all but one and they also add vitamin A and sodium into the mix. With white-fleshed potatoes at $0.76 a pound and sweet potatoes at $0.90, you're paying an extra $0.14 for nutrients you won't be getting from white potatoes. This is much cheaper than taking a vitamin supplement would be. And it goes without saying that it's a really good investment if you're one of the many, many people who are sensitive to nightshades. The bottom line of any elimination diet is to eat food that is actually healthy for your unique body. If you are sensitive to nightshades, legumes, grains, dairy, etc., then eating them, no matter how cheap they are, is going to result in continuing ill health, which means higher medical costs. So if you keep eating inflammatory foods and don't absorb any nutrients from them or the healthy foods you do eat as a result, you're digging yourself in a little deeper at every meal.
Tips
If food really is too expensive, even these non-organic, non-free-range options I've presented, then it's probable that food isn't the problem. When you're stretched too thin, there are places you can turn. If you need help finding a job, try a temp agency. If you're stuck in a rut at your current job, maybe it's time to demand that raise you've never gotten or look for something better. If you can't afford to fix your car or pay for gas, look into public transportation, biking, or ask around about carpooling. Find a roommate to help share rent, electric, and water expenses. Ask your friends and family for help, because sometimes shit happens and people who love you are more understanding and supportive than you might think.
Before you go shopping (whether its groceries, clothes, or office supplies), make a list. Only buy items on the list, and look for the cheapest options available. Grocery stores often include the price per ounce on their labels, so you can easily compare your options and choose the cheapest per ounce.
Keep all of your receipts. Highlight purchases you could have done without (did you really need that almond flour or new tube of mascara, or could you have gone without it?)
Shopping is addictive. Don't even window shop or browse cool things online if you don't have the money for it. Don't even get on Pinterest!
Do not dig yourself into credit debt! Credit cards are for emergencies only. Try to keep your balance at or below 10% of your limit and pay your bills as soon as you get them. If at all possible, do not spend money you do not have! If it helps, keep your credit card in the freezer. In the time it takes to thaw, you may have realized that the purchase wasn't necessary.
After you decide to make a big purchase, sleep on it for a week. Once you take yourself out of the moment, you may find the purchase isn't as necessary or as good a deal as you thought.
If you get a bill you can't pay, call and ask for a payment plan or at least let someone know that your payment will be late–these are just people doing their jobs and they'd probably rather hear from you and help you out than hunt you down for a year
Looking for Some Simple AIP Recipes?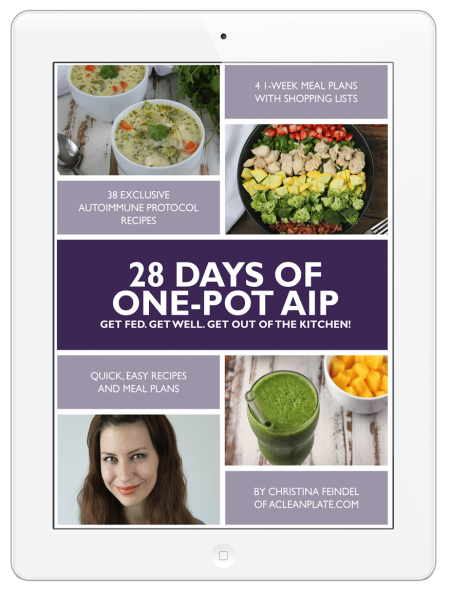 When you're dealing with fatigue, pain, or illness, eating healthy is hard enough without having to multitask while cooking or clean up a huge mess afterwards. That's why one-pot meals are my favorite. 28 Days of One-Pot AIP is exactly what it sounds like: A 28-day meal plan featuring only 100% autoimmune protocol, one-pot recipes. There's an intro to explain the AIP and one-pot cooking and the preparation is so much simpler when you've only got one thing to keep track of. Plus, you'll be amazed at the variety of flavors still available to you, like my Chicken Pot Pie Soup, satisfying green smoothies, and colorful salads! The e-book is now available for $9.99.