I know salads are more of a summer thing, but it's been in the low eighties here off and on all winter so we've been craving some quick, fresh, and cooling meals as opposed to the pot roasts and soups we normally associate this time of year with. Lots of green smoothies, lots of cold cuts, just a whole lot of stuff I don't have to fire up the oven for. That said, this Blueberry Salad with Orange Vinaigrette is the perfect side dish for any time of year! The citrus and cranberries are wonderful winter notes and a pinch of ginger or cinnamon wouldn't go amiss. This salad pairs well with just about any protein, though I particularly like it alongside chicken or fish, and the dressing takes just seconds to whip up. It's also a wonderful choice for family members that have trouble with greens–salads laden with fruit were the only kind I would eat growing up. But with a heaping helping of a variety of fruit flavors, you'll hardly even notice the spinach. (The salad also works well with kale.)
Need a Break From Cooking?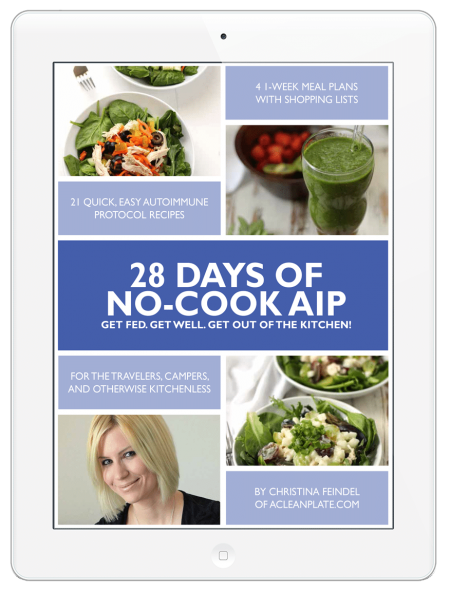 Whether you're traveling, moving, or just tired of spending so much time in the kitchen, 28 Days of No-Cook AIP can help. With four one-week meal plans designed for lazy days and/or a poorly-stocked kitchen, these simple dishes (including but not limited to salads, wraps, and smoothies) will make sticking to your autoimmune protocol diet during business trips, holiday travel, and times of illness or stress a lot easier! The e-book is now available as a digital download for $9.99.
Nutrition Facts
Calories:
597
kcal
Carbohydrates:
101
g
Protein:
23
g
Fat:
19
g
Saturated Fat:
3
g
Polyunsaturated Fat:
3
g
Monounsaturated Fat:
11
g
Sodium:
809
mg
Potassium:
4418
mg
Fiber:
27
g
Sugar:
59
g
Vitamin A:
66750
IU
Vitamin C:
412.5
mg
Calcium:
770
mg
Iron:
17.8
mg
Instructions
Combine all ingredients in a large salad bowl. Toss well, then serve.