These Blueberry Pancakes are my go-to recipe any time blueberries are in season and on sale. I mean, not that there's anything wrong with eating them by the handful, but sometimes you gotta vary things up a bit, right? And when I think of blueberry recipes, it's pancakes, not pie, that immediately comes to mind and makes my mouth start watering. This recipe also works well with frozen blueberries (just let them thaw first) or even canned blueberries (just drain and rinse). If you have trouble finding plantains where you live, my first recommendation is to check local Asian or Hispanic markets. If that fails, you can use another two small bananas as long as they're green. The flavor will be different, but the consistency should be about the same.
Keep Your Health on Track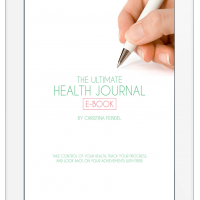 Whether you're starting the autoimmune protocol, a new medication, an exercise routine or trying to get to the bottom of your headaches or indigestion, cataloging your activities and symptoms is a great way to gauge your progress. The Ultimate Health Journal can help you stay on track with diet, fitness, and other lifestyle changes you have begun or been prescribed, notice patterns in your health and lifestyle so you can enact positive changes, and provide a valuable tool for you, your family, and your healthcare team. I would never have noticed that cinnamon makes me sneeze or dairy gives me hiccups without keeping a written record during my elimination diet, which helped me see the patterns that solved my problems! The ebook is available as a digital download with printable template for $6.99.
Nutrition Facts
Calories:
466
kcal
Carbohydrates:
39
g
Protein:
12
g
Fat:
31
g
Saturated Fat:
15
g
Polyunsaturated Fat:
4
g
Monounsaturated Fat:
11
g
Cholesterol:
186
mg
Sodium:
474
mg
Potassium:
672
mg
Fiber:
4
g
Sugar:
18
g
Vitamin A:
750
IU
Vitamin C:
20.6
mg
Calcium:
40
mg
Iron:
2.5
mg
Instructions
Combine all of the ingredients except the blueberries in a high-speed blender and process until smooth.

Grease a skillet or griddle over medium-high heat (I prefer to use coconut oil).

Mix in the blueberries, then pour the batter in 1/4 cup rounds onto the skillet or griddle and cook until golden-brown on bottom, about 5 minutes.

Flip and cook the other side, about 5 minutes.