This summer has been wild with stone fruits. I enjoyed a couple of weeks of peaches for 89 cents a pound and was recently delighted to find a similarly awesome deal on these gorgeous black plums. I mean, you can't not buy them with prices that low. Now, by themselves, plums aren't one of my favorite fruits. They've got a bit of the same sourness red grapes do without any of that "just pop 'em in your mouth" convenience. But man, can plums do some pretty amazing things for a dish. Case in point: This sweet-and-mildly-sour, chocolate-enhanced, creamy Black Plum Ice Cream. Come our long, hot, humid Texas summers, my husband is a fool for fruity sorbets, something I never really understood. Me, I'm not picky. If it's cold and melts in your mouth, I am all over it, and usually, the richer, the better. But this summer, I've been feeling the fruit, too. Forget the rich, decadent, triple-chocolate ice cream of summers past and bring on the peaches, plums, berries, and banana soft serve! Maybe it's all these years on Paleo or maybe it's just aging tastebuds or maybe it's just this summer in particular, but I'm starting to think that simpler is better. But with a handful of chocolate chips, this ice cream has the best of both worlds. A delightfully sweet and creamy base. Hints of sour plum and vanilla. Occasional bursts of rich, dark chocolate. What more could you ask for–and also, what are you waiting for?!
Keep it Simple with Freezer Cooking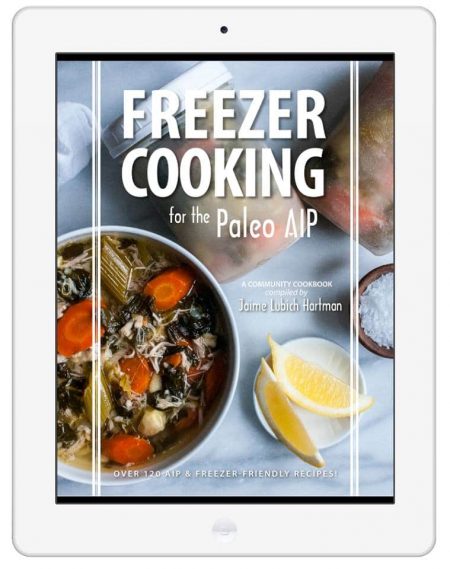 Preparing meals ahead of time and keeping them on hand in the freezer is one of the best ways to make any diet change sustainable. You'll wind up spending less time in the kitchen most days and will always have something ready to go when hunger or cravings strike. With Freezer Cooking for the Paleo AIP, you'll get 123 tried-and-true recipes from 30 of your favorite autoimmune protocol bloggers to help you out. Designed for batch cooking and advance prep, each recipe includes instructions for storing, freezing, and reheating it. There are recipes for every meal of the day and recipes for special occasions, too! The ebook is now available as a digital download for $18.90.
Nutrition Facts
Calories:
216
kcal
Carbohydrates:
29
g
Protein:
2
g
Fat:
12
g
Saturated Fat:
9
g
Sodium:
16
mg
Potassium:
12
mg
Fiber:
2
g
Sugar:
26
g
Vitamin A:
150
IU
Vitamin C:
5.8
mg
Calcium:
2
mg
Iron:
1.3
mg
Instructions
Combine all ingredients except the chocolate chips in a blender and puree until smooth.

Stir in the chocolate chips and run through your ice cream maker according to the manufacturer's instructions.