I started developing this recipe a few weeks ago when I was sick with some kind of awful throat thing and all I could swallow was warm liquids. After a few days I was getting so sick of broth and tea and purees. So when solids didn't hurt so bad this soup came out swinging with lots of savory, salty, umami flavor–and, of course, nutrients! If you aren't on the autoimmune protocol, feel free to use tomato sauce instead of nomato sauce and black pepper or paprika instead of the ginger. And if you do dairy, I think this soup would be wonderful with a dollop of sour cream!
Struggling with thyroid disease?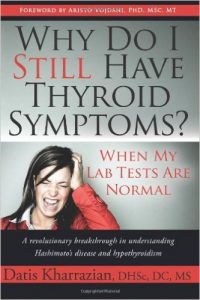 Why Do I Still Have Thyroid Symptoms? by functional medicine practitioner Datis Kharrazian is single-handedly responsible for my improved health over the past few years. It introduced me to the connection between autoimmune disease and lifestyle factors like diet at a time when my doctors were telling me there was nothing wrong with my thyroid even though I had high antibodies. This book gave me the information I needed to get the right tests ordered and seek proper treatment. It's a must-have guide for anyone who has already been diagnosed with thyroid disease, who is at risk due to family history, or who strongly suspects they may have it but isn't sure where to start. I can't recommend it enough!
Total Time:
7
hours
10
minutes
Nutrition Facts
Calories:
369
kcal
Carbohydrates:
6
g
Protein:
32
g
Fat:
23
g
Saturated Fat:
9
g
Polyunsaturated Fat:
1
g
Monounsaturated Fat:
10
g
Cholesterol:
102
mg
Sodium:
1258
mg
Potassium:
581
mg
Fiber:
2
g
Sugar:
2
g
Vitamin A:
1700
IU
Vitamin C:
13.2
mg
Calcium:
20
mg
Iron:
4.1
mg
Instructions
Cook the bacon in a skillet on medium heat until crispy, then set aside, leaving the fat in the pan. (When the bacon is cool, crumble it and put it in the refrigerator.)

Cook the beef in the pan until browned on all sides, t hen place the beef in a slow cooker.

Cook the onions in the pan until translucent, then add to the slow cooker.

Add the remaining ingredients to the slow cooker and cook on low for 7 hours.

Serve the soup garnished with the crumbled bacon.