Imagine being at your favorite Mexican restaurant. You know, back before you had any dietary restrictions. Imagine the smell and sizzling sound that had you hoping the waiter was heading in your direction and your glorious Mexican feast was about to begin. Imagine the signature smokey taste of good fajita meat, done just right. Well, good fajita meat isn't as refined a skill as I had always imagined it might be! In fact, the more I cook, the more I've come to believe that the best food is always the simplest food. Not just because it's easier to prepare, but because when you're using high-quality, nutritious ingredients, they tend to speak for themselves. Instead of bell peppers, this recipe uses summer squash with lime juice and a sprinkling of autoimmune protocol-friendly seasonings for zest. With lettuce wraps instead of tortillas and juicy, full-flavored mango on top, these Beef Fajitas with Mango Salsa have become one of A Clean Plate's all-time most-popular recipes. Considering how easy they are to make and how satisfying their flavor is, it's no wonder why!
Looking for more easy AIP recipes?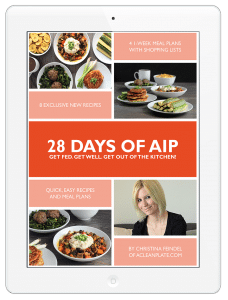 I know diet change can feel overwhelming. I started the autoimmune protocol at a time when only four other people were writing about it, and over the years, I've striven to give you the resources I wish I'd had when I got started. Not just recipes, but ways to implement them. My first ebook 28 Days of AIP is a meal plan that will help you get going (or get back on the wagon) with as little fuss as possible. With a variety of simple, delicious recipes, plenty of leftovers so you don't spend all your free time in the kitchen, and shopping lists ready to go, all you have to do is follow the plan, then sit down and enjoy your meal! It's available as a digital download for $9.99.
Ingredients
Mango Salsa
1

whole

mango

(chopped)

1

whole

avocado

(chopped)

1

whole

red onion

(diced)

2

tablespoons

lime juice

(omit for low-histamine)

1

tablespoon

cilantro

(chopped)
Equipment
Nutrition Facts
Calories:
573
kcal
Carbohydrates:
27
g
Protein:
34
g
Fat:
38
g
Saturated Fat:
17
g
Polyunsaturated Fat:
2
g
Monounsaturated Fat:
15
g
Cholesterol:
100
mg
Sodium:
954
mg
Potassium:
1274
mg
Fiber:
8
g
Sugar:
12
g
Vitamin A:
154
%
Vitamin C:
103
%
Calcium:
10
%
Iron:
32
%
Instructions
Combine the beef, garlic, squash, zucchini, lime juice, oregano, ginger, turmeric, and sea salt in a bowl and marinate in the refrigerator for at least 30 minutes.

Heat the oil in a skillet over medium heat and cook the meat and vegetables until the meat is cooked through, about 7 minutes.

Meanwhile, combine the salsa ingredients.

Spoon the meat and vegetables into lettuce leaves and top with the salsa to serve.