For most of us, eating healthier involves eating more veggies than we were accustomed to. Maybe a lot more. It's natural to feel some resistance to the new flavors and textures of foods that weren't a regular part of your diet before, but usually, they grow on you if you give them a chance. One of the simplest, most effective ways I've found to incorporate more veggies like that into our diet is to simply toss them all together with proteins and seasonings we already like. This BBQ Chicken Casserole is the perfect example. My husband hates spaghetti squash and he flat-out groans every time he sees I've bought one. Determined to change his mind, I set out to make a spaghetti squash recipe that had some of his favorite flavors: Bacon, barbecue sauce, and garlic. Thanks to the companies offering AIP-friendly barbecue sauce these days, it wasn't even that much work. Enjoy!
Looking for Some Simple AIP Recipes?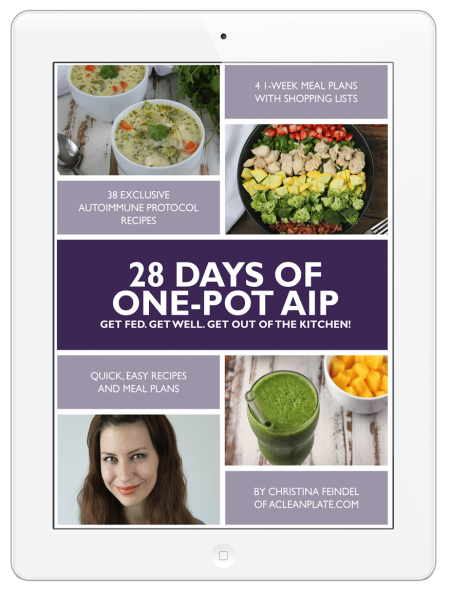 When you're dealing with fatigue, pain, or illness, eating healthy is hard enough without having to multitask while cooking or clean up a huge mess afterwards. That's why one-pot meals are my favorite. 28 Days of One-Pot AIP is exactly what it sounds like: A 28-day meal plan featuring only 100% autoimmune protocol, one-pot recipes. There's an intro to explain the AIP and one-pot cooking and the preparation is so much simpler when you've only got one thing to keep track of. Plus, you'll be amazed at the variety of flavors still available to you, like my Chicken Pot Pie Soup, satisfying green smoothies, and colorful salads! The e-book is now available for $9.99.
Ingredients
1

pound

bacon

(chopped)

1

small

red onion

(diced)

2

pounds

chicken breasts

(chopped)

2

cups

spinach

1

medium

spaghetti squash

(baked, seeded, and shredded)

1 1/2

cups

AIP barbecue sauce

1/2

teaspoon

garlic powder
sea salt

(to taste)
Equipment
Instructions
Preheat oven to 400 degrees F and grease a large baking dish with coconut oil or lard.

In a large skillet over medium heat, cook the bacon until just shy of crisp, about 7 minutes. Remove the bacon from the pan, leaving the fat.

Cook the onion and chicken in the bacon fat until the chicken is cooked through, about 10 minutes.

Add the spinach and cook until wilted, stirring frequently, about 3 minutes.

In a large bowl, combine the chicken mixture, spaghetti squash, barbecue sauce, garlic powder, salt, and half of the cooked bacon. Mix well.

Transfer to the greased baking dish and sprinkle with the remaining bacon.

Bake 30 minutes, then serve hot.