When my husband first moved in, one of my favorite things to do for breakfast was a bake a big ol' dish of hashbrowns, sausage or ham, and eggs for the week. I'd carve it up into serving sizes, freeze half, and serve each up with a green smoothie or maybe some salsa and guacamole. This was before I started the autoimmune protocol, of course, and before he had to get choosier about the carbs he ate. For the past several years, we've been either forgoing breakfast altogether or sticking to a simple green smoothie for convenience's sake. But of course, the holidays always put me in the mood for more elaborate breakfasts and what better time than the new year to figure out healthier habits for "the most important meal of the day"? This, this Baked Sweet Potato Casserole was born. With white sweet potatoes (aka the Hannah variety of sweet potatoes) instead of traditional white potatoes, it's a lower-starch, higher-nutrient option. And, oh yeah, it's nightshade-free! While not autoimmune protocol-friendly due to the inclusion of eggs, you could adapt it by subbing the eggs for another 1/4 cup or so of coconut milk. The dish's consistency will be thinner, but the flavor should be about the same. You can also throw in whatever kinds of vegetables you might happen to have on hand. Bell peppers, carrots, celery, and greens can get sauteed with the onion; diced tomatoes can get mixed in with the potato; you can even use yellow squash or zucchini spirals instead of the sweet potato! It's a truly versatile dish and the perfect compromise for someone who wants a big, hearty, healthy breakfast without having to make one every day.
Keep your household clean, too!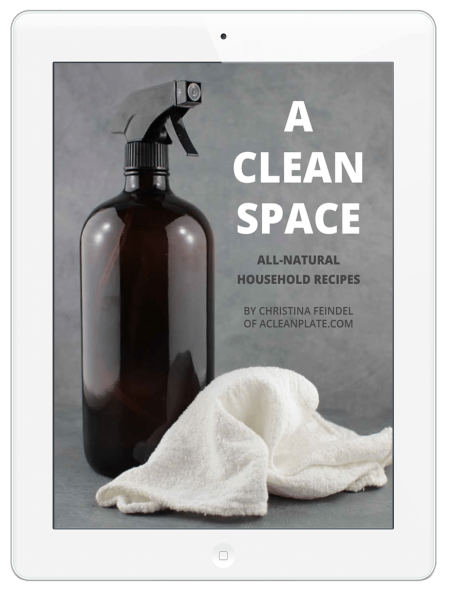 I may make my living as a food blogger, but my health-consciousness actually began long before I started cooking. Growing up with a sensitive nose and skin that would break out into a rash at the slightest provocation, I've been making my own cosmetics and cleaning products since high school. I hoped that avoiding these environmental toxins would not only improve my health, but be better for the environment and save me some money compared to buying high-end non-toxic products at a health-foods store. Whatever your reasons, making your own household products is easier than you might think. My e-book A Clean Space has all the tips, tricks, and recipes you need to get started–and it's only $6.99!
Ingredients
1

pound

sausage

(crumbled)

1

small

onion

(diced)

3

cloves

garlic

(minced)

6

whole

eggs

(beaten)

1/4

cup

coconut milk

1/2

teaspoon

sea salt

1/4

teaspoon

ground black pepper

1 1/2

pounds

white sweet potatoes

(shredded)

4

strips

bacon

(cooked and crumbled)

1/4

cup

green onion

(sliced)
Equipment
Nutrition Facts
Calories:
481
kcal
Carbohydrates:
30
g
Protein:
24
g
Fat:
29
g
Saturated Fat:
11
g
Polyunsaturated Fat:
3
g
Monounsaturated Fat:
12
g
Cholesterol:
235
mg
Sodium:
1325
mg
Potassium:
758
mg
Fiber:
4
g
Sugar:
7
g
Vitamin A:
327
%
Vitamin C:
10
%
Calcium:
8
%
Iron:
14
%
Instructions
Preheat the oven to 375 degrees F.

If the sausage and bacon aren't already cooked, heat a bit of oil in a pair of frying pans over medium-high heat. In one, stir-fry the sausage until browned, then transfer to a large mixing bowl. In the other, cook the bacon until crispy, then set aside.

Cook the onion over medium heat until translucent, then add the garlic and stir-fry 1 minute. Add to the bowl with the sausage.

In a separate bowl, combine the eggs, milk, salt, and pepper. Stir into the sausage mixture along with the sweet potatoes. Pour into an 9x9" baking dish, sprinkle the bacon on top, and cover with foil.

Bake for 20 minutes, then remove the foil and bake an additional 15 minutes or until the eggs have set and the top has begun to brown. Serve garnished with green onions.