This recipe may be super simple, but these Baked Peaches with Blackberry Sauce pack so much flavor you'll wonder why you weren't always eating peaches and blackberries together. Of course, this works well with other berries, too. Cherries are my particular favorite, at least when they're in season. We're blessed to live in peach country, where months of the year offer an abundance of fresh, succulent peaches. But that doesn't mean all of our peaches are good. If you often find yourself with dry, pithy ones when you buy from the grocery store, it's probably because they were transported a long way from the farm they came from–or have been stored a long time. Peaches get something called "chilling injury" when they're cooled too far below room temperature, which leaves them a bit mealy. So, for the best peaches, check local farmer's markets for fresh, never-chilled specimens. A good peach is worth going out of your way for!
Struggling with thyroid disease?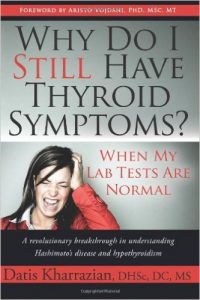 Why Do I Still Have Thyroid Symptoms? by functional medicine practitioner Datis Kharrazian is single-handedly responsible for my improved health over the past few years. It introduced me to the connection between autoimmune disease and lifestyle factors like diet at a time when my doctors were telling me there was nothing wrong with my thyroid even though I had high antibodies. This book gave me the information I needed to get the right tests ordered and seek proper treatment. It's a must-have guide for anyone who has already been diagnosed with thyroid disease, who is at risk due to family history, or who strongly suspects they may have it but isn't sure where to start. I can't recommend it enough!
Ingredients
4

whole

peach

(sliced)

1/4

cup

blackberries

1/4

teaspoon

lemon juice
Nutrition Facts
Calories:
92
kcal
Carbohydrates:
22
g
Protein:
2
g
Fat:
1
g
Saturated Fat:
0.04
g
Polyunsaturated Fat:
0.3
g
Monounsaturated Fat:
0.2
g
Sodium:
0.2
mg
Potassium:
418
mg
Fiber:
5
g
Sugar:
18
g
Vitamin A:
12
%
Vitamin C:
36
%
Calcium:
3
%
Iron:
3
%
Instructions
Heat the oven to 350F.

Arrange half the peaches in the bottom of an 8x8" baking dish.

Puree the berries and lemon juice. Pour half over the peaches in the pan, layer the remaining peaches on top, and then pour on the remaining puree.

Bake 10-12 minutes.