These Mediterranean Baked Olives are inspired by tapas, a fun topping for baguettes I only barely got to enjoy before I was diagnosed with Celiac disease. While gluten-free baguettes might be possible, this version was intended to top salads or fish. With so much rich, herb-and-lemon flavor, they're a wonderful accompaniment to mild meats and vegetables like chicken, whitefish, celery, and cucumber. But most of them time when I make it, it doesn't get that far. I wind up eating them by themselves straight out of the oven–they're just so tasty!
Keep it Simple with Freezer Cooking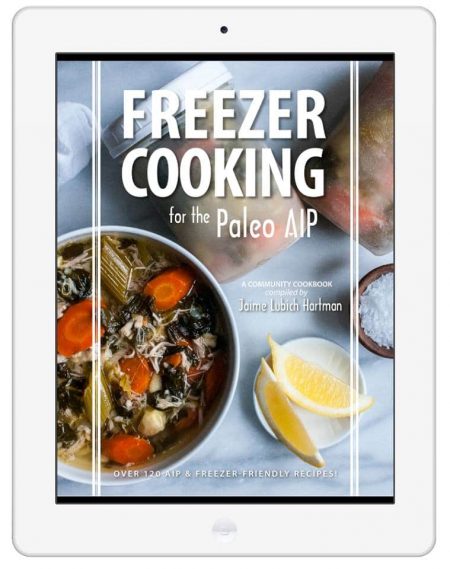 Preparing meals ahead of time and keeping them on hand in the freezer is one of the best ways to make any diet change sustainable. You'll wind up spending less time in the kitchen most days and will always have something ready to go when hunger or cravings strike. With Freezer Cooking for the Paleo AIP, you'll get 123 tried-and-true recipes from 30 of your favorite autoimmune protocol bloggers to help you out. Designed for batch cooking and advance prep, each recipe includes instructions for storing, freezing, and reheating it. There are recipes for every meal of the day and recipes for special occasions, too! The ebook is now available as a digital download for $18.90.
Nutrition Facts
Calories:
276
kcal
Carbohydrates:
11
g
Protein:
1
g
Fat:
26
g
Saturated Fat:
15
g
Polyunsaturated Fat:
2
g
Monounsaturated Fat:
9
g
Sodium:
1099
mg
Potassium:
77
mg
Fiber:
5
g
Sugar:
0.4
g
Vitamin A:
12
%
Vitamin C:
9
%
Calcium:
16
%
Iron:
28
%
Instructions
Preheat the oven to 350F.

Combine all ingredients in an 8x8" baking dish. Bake for 30 minutes, stirring a couple of times throughout.