In case frying it in its own grease just doesn't suit your fancy, bacon can also be made in the oven on a wire rack. And, call me crazy, but I think it tastes better… almost buttery. Mmmm.
Looking for Low-FODMAP Recipes?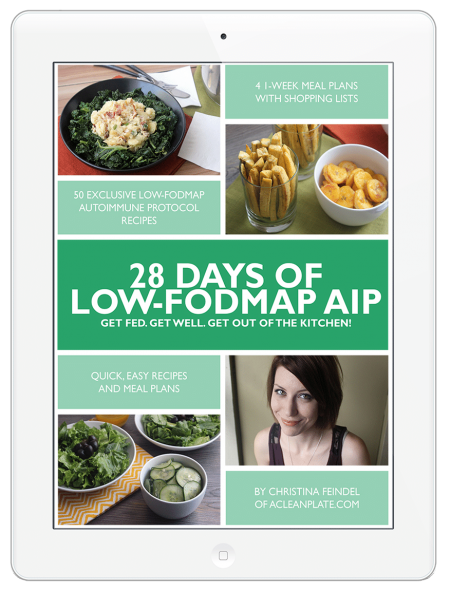 The low-FODMAP diet is often prescribed for people with IBS or Small Intestinal Bacterial Overgrowth (SIBO), and there's a huge overlap of that demographic with people with autoimmune disease. My e-book 28 Days of Low-FODMAP AIP combines both IBS- and autoimmune-friendly diets in a 28-day meal plan designed to jump start and simplify this often-challenging diet change. Just you wait: The meal plan includes 50 exclusive low-FODMAP recipes you won't find on my website or anywhere else, with dishes like Chicken Vindalo, Jambalaya, and crispy, crunchy Tostones. You'll be amazed at the variety of flavors still available to you! The ebook is available as a digital download for $9.99.
Nutrition Facts
Calories:
43
kcal
Carbohydrates:
0.1
g
Protein:
3
g
Fat:
3
g
Saturated Fat:
1
g
Polyunsaturated Fat:
0.4
g
Monounsaturated Fat:
1
g
Cholesterol:
9
mg
Sodium:
185
mg
Potassium:
45
mg
Iron:
0.2
mg
Instructions
Preheat the oven to 4258F.

Lay the bacon strips in a single layer on a rimmed baking sheet.

Bake 18-20 minutes, until crispy, rotating the pans halfway through to help cook the bacon evenly.

Drain on a paper towel-lined plate before serving.