As far as "things you might say in the kitchen" go, bacon and ranch have to be two of my favorite words. Growing up, I'd eat anything if it was smothered in ranch dressing and/or seasoning. In fact, it was pretty much the only way I'd eat vegetables. Add some bacon, and you'd be guaranteed a smash hit. I may not be as picky about vegetables as I used to be, but Brussels sprouts are still a bit of a sticking point in my household, so I'm always looking for fun, new ways to jazz them up. These Bacon Ranch Brussels Sprouts, with a homemade ranch-inspired seasoning mix, absolutely hit the spot. They pack such a huge wallop of flavor, they're the perfect side for unseasoned steaks or any other mild-flavored protein. Enjoy!
Looking for more easy AIP recipes?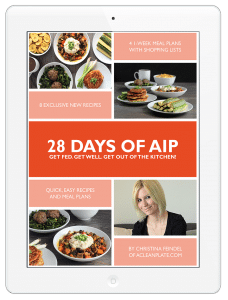 I know diet change can feel overwhelming. I started the autoimmune protocol at a time when only four other people were writing about it, and over the years, I've striven to give you the resources I wish I'd had when I got started. Not just recipes, but ways to implement them. My first ebook 28 Days of AIP is a meal plan that will help you get going (or get back on the wagon) with as little fuss as possible. With a variety of simple, delicious recipes, plenty of leftovers so you don't spend all your free time in the kitchen, and shopping lists ready to go, all you have to do is follow the plan, then sit down and enjoy your meal! It's available as a digital download for $9.99.
Instructions
Preheat the oven to 425 degrees F. Line a large baking sheet with parchment paper or oiled aluminum foil.

On a large baking sheet, toss Brussels sprouts with olive oil, garlic, oregano and paprika then season with salt and pepper. Scatter bacon on the pan.

Combine all ingredients and mix well, then spread evenly over the baking sheet and bake until the Brussels sprouts are beginning to char around the edges, about 30 minutes.